SAN FRANCISCO, California (CNN) -- Airport security lines have always been difficult for Leslie Heller and her family.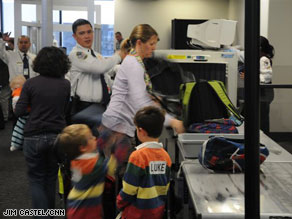 Passengers use the TSA Family Line at San Francisco Airport Thursday.
But now that the Transportation Security Administration has expanded the use of family lines at airport security checkpoints nationwide, Heller said Thursday she hopes traveling will be easier.
'It's always so hard to get the shoes off and the belts off," said Leslie Heller, who was departing with her family at midmorning. "We won't be as stressed and they won't be getting so angry behind us."
The family lines are designed to help those unfamiliar with checkpoint procedures or families who prefer to go through security at their own pace -- without worrying about holding up lines and angering avid travelers who can quickly move through security.
"Passengers have clearly demonstrated their preference to go at their own pace," said TSA spokesman Kip Hawley. "Expanding these lanes to every airport...increases passenger convenience and security."
TSA was working quickly to make sure all airports will be outfitted with the lines in time for the busy Thanksgiving travel season, TSA said.
At San Francisco International, families with small children, travelers with special needs and passengers with medically necessary liquids were actively directed to the new lines by airport personnel.
"Fantastic!" said Carol Jensen, traveling alone with her two small daughters to Kentucky. "Anything to get us through the line quicker."
The TSA said officers staffing the family lanes will work with passengers to quickly complete the screening process.
The TSA imposed the restrictions on liquids in August 2006 after a plot was uncovered to use liquid explosives to destroy planes headed from London, England, to the United States. The TSA says liquid explosives remain a security concern, but the new procedures will allow screeners to check what kind of liquids are being carried aboard.
Passengers traveling with liquids, gels and aerosols like baby formula, insulin, cough syrup, contact lens solution and prescription medications will undergo additional screening that will usually take less than two minutes, the agency said.
"Stuffed animals will be a little more accepted," Heller said. "Maybe they'll have nicer people working in the family line."
Along with the family lanes, in the coming months, the government expects to revisit its rule for the amount of liquids that may be brought aboard planes, while boosting the number of behavior detection officers deployed at checkpoints across the country.
Those restrictions could be eased next year with the help of advanced X-ray machines that can be upgraded with software, like computers, said Christopher White, a spokesman for the Transportation Security Administration.
"Scientists at the national labs have been working to develop an algorithm to plug into the machines that would allow us to tell the difference between a bottle of Coke and a bottle of liquid explosives," he said.
The TSA is planning to have 600 of the machines installed at airports across the country by the end of this year, White added.
The TSA has been taking steps to reduce stress for all travelers at security and to make it easier for the officers to spot passengers who are acting suspiciously.
"By calming the checkpoint down, it makes people with potential hostile intent really stand out," White said. "If there's a shark fin in a rough sea, it's impossible to see. If there's a shark fin in a lake, it's very easy to see."
E-mail to a friend

CNN's Peter Ornstein contributed to this report.
All About Transportation Security Administration • San Francisco International Airport