By Andrea Bennett
(Travel + Leisure) -- While cruise lines have drawn criticism from eco-watchdogs for years, addressing environmental issues has become one of the industry's top priorities.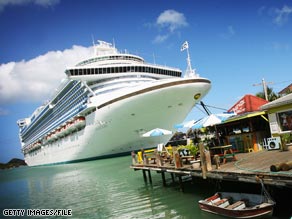 Cruise lines with advanced wastewater treatment technology treat water so it's safe to discharge at sea.
Royal Caribbean recently invested millions of dollars into energy conservation and limiting waste dumping. And lines such as Holland America, Princess and Celebrity are continuing to become more environmentally friendly. Here, three ways you can set sail without a guilty conscience.
Depart from a port that's close to home
You can decrease your carbon emissions by not flying to meet your ship (or at least by flying nonstop). Newer ports in Brooklyn, New York, and Mobile, Alabama, are making this easier. Also, flexible itineraries allow you to choose your departure city from among several ports of call.
Residential ship the World lets you board in Charleston, South Carolina, Fort Lauderdale, Florida, or Anchorage, Alaska, as long as you're willing to spend a minimum of six nights on board. Search by departure city at cruisecritic.com (or call your travel agent). Travel+Leisure.com: Best new green hotels
Check policies on wastewater discharge and emissions
Pick a cruise line with advanced wastewater treatment (AWT) technology, which entails treating water so it's safe to discharge at sea. Royal Caribbean is spending close to $100 million to retro-fit all its ships with AWT (20 are complete now). Norwegian and Celebrity have already installed it on all their vessels.
Holland America is testing a new system that uses seawater to scrub smokestack emissions, which decreases air pollution; its Vista-class fleets are powered by either diesel-electric or gas-turbine engines. Royal Caribbean and Celebrity have added gas turbines to their newest ships, reducing emissions of nitrous oxide by 80 percent and sulfur oxide by 98 percent. Princess is doing its part by turning off engines on several ships while they're docked and plugging them into hydroelectric-power transformers onshore.
Choose cruises devoted to eco-tourism
It's best to cruise on vessels with eco-itineraries, since these lines tend to be more environmentally aware. California-based AdventureSmith Explorations, for example, partners with Sustainable Travel International to offset carbon output. A portion of each fare goes to STI initiatives around the world, such as harnessing biomass energy in India and wind energy in Madagascar.
Lindblad Expeditions works with the National Geographic Society. Besides supporting research, the company is involved in environmental practices at every level: it partners with local organizations to implement conservation projects and eco-stewardship; donates ship space for environmental organizations; and through its program Seafood for Thought, ensures that it uses only seafood farmed from sustainable sources.
Finally, if you're truly concerned, stick to smaller cruise ships (fewer than 150 passengers). By forgoing such services as laundry and onboard entertainment, they burn less fuel.
E-mail to a friend

Planning a beach getaway? Don't miss Travel + Leisure's guide to Affordable Beach Resorts.
Copyright 2009 American Express Publishing Corporation. All rights reserved.
All About Travel Destinations • Travel and Tourism