(CNN) -- Tokyo may not be traditionally beautiful and it has few historic sights, but it is undeniably spectacular. You'll want to walk around the city, feeding off the incredible energy, rubbernecking at the skyscrapers and marveling at the sheer "Tokyoness" of it all.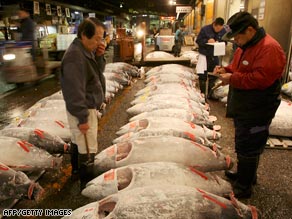 Get to Tsukiji fish market by 5 a.m. for an unforgettable experience.
Ginza is the most stylish stretch of the city-- all flagship stores and pricey restaurants. It's a great place to window shop and tech-heads shouldn't miss the Sony Building, where they can get excited over the latest gadgets and marvel at a whole floor devoted to the PlayStation.
For something more traditional, visit the Kabukiza Theatre. The ornate theater only dates back to 1949, but Kabuki plays have been around for at least 400 years. There are two performances a day and shows can last up to five hours, but you can buy tickets for a single act.
Down by the Sumida River the Tsukiji fish market is an absolute must see -- unfortunately, you absolutely must see it at around 5 a.m. The early morning auction sees a rowdy crowd of restaurateurs battling to outbid each other for the best of the day's catch. Visitors aren't officially allowed, but as long as you don't get in the way and don't take any flash photos, your presence will be tolerated.
Shibuya is the futuristic Tokyo that's inspired countless sci-fi films. The intersection in front of Shibuya Station is a sprawl of gleaming office blocks adorned with illuminated billboards and surrounded by relentless surging crowds. In the north of Shibuya, the Meiji Shrine Inner Gardens contain some 125,000 trees and shrubs, providing a suitably peaceful setting for the Shinto Meiji-jingu Shrine.
Like Shibuya, Shinjuku is a bustling entertainment hub and virtually a city in itself. A world away from the bright lights of Nishi Shinjuku, and the red lights of Kabukicho, Golden Gai is an atmospheric ghetto of alleyways crammed with ramshackle bars, evoking a bygone Tokyo of the 1960s.
Traditionally Tokyo's straight-laced business district, Marunouchi has recently developed into one of the city's most exciting areas, with swanky department stores, upmarket restaurants and sophisticated bars. You can find all of those inside the vast Shin-Marunouchi building.
The glass and steel Tokyo International Forum is a glittering post-modern masterpiece that functions as a convention center and art gallery, housing various shops and eateries.
Nearby, the Imperial Palace East Gardens are an immaculate oasis in the historic and geographical heart of the city. The gardens are open all year but the Imperial Palace itself is only open to the public on 2 January and 23 December, the Emperor's Birthday.
If the streets of Tokyo aren't enough of an adrenaline rush, head to the Suidobashi area of Kanda, where Korakuen Amusement Park and La Qua boast high-octane thrill rides. La Qua's Thunder Dolphin is an unbelievable roller coaster that loops among rooftops and takes a short cut through the center of a Ferris wheel.
For thrills of a more sophisticated nature, the Mori Art Museum on the 53rd floor of the Roppongi Hills Mori Tower combines contemporary art with fantastic views, while Ueno Park is home to Tokyo National Museum and the National Museum of Western Art, both highly recommended.
Where to stay | What to see | Where to be seen | Where to eat | Where to shop
......................
Do you agree with our Tokyo picks? Send us your comments and suggestions in the "Sound Off" box below and we'll print the best.
E-mail to a friend