(CNN) -- Canadian Jean Snow moved to Asia to study Chinese in Tianjin, China, but departed for Tokyo after falling for a Japanese woman, who is now his wife. Since 2002, Jean's excellent blog Jeansnow.net has been keeping tabs on design and pop culture in Tokyo. Here he writes for CNN about life in the Japanese capital.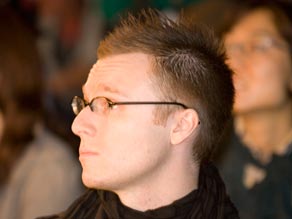 Jean Snow blogs about design and pop culture in Tokyo.
"When I get asked why I started blogging about Tokyo, and why I've been doing it for so long, I always have the same simple response: the city made me do it. I don't think you can live in this city as an expat for an extended period of time without developing a strong attachment -- maybe even an attraction.
"For me, it was Japanese design that first grabbed a hold of me, and gave me such a sense of enjoyment and wonder that I felt like I needed to report on it. I found it everywhere I looked, from the amazing design and cultural magazines on the racks, to the stylish shops and interiors. You can't really leave your home without encountering a cool spot that makes you want to take a photo and then report on it as soon as you get home to your computer.
"How can you not find something to like in this city? Try to find a trendier spot to shop for clothes than Harajuku or Daikanyama. Like things a bit more upscale? Meet me at one of Aoyama's many great cafes. How about record shopping in Shibuya?
If a tour of flagship brand stores designed by architectural superstars is more your thing, Omotesando and Ginza have got that covered. And of course, there's no better place to get your electronic and video gaming fix than in Akihabara, Tokyo's "Electric Town." It doesn't matter what your tastes tend towards, there's a district for everyone in Tokyo, as well as a shop that will cater to the most obscure and underground of desires.
"But the thing I probably love the most about this city is that it's constantly changing. You can't really expect things to stay the same for very long, which turns every outing into an exploration. Shops come and go, and same goes for architectural marvels, or even entire city blocks.
"New 'cities' -- in the form of entertainment complexes like Roppongi Hills or Tokyo Midtown -- continue to pop up. It's always worth taking a look down every side street since you never know what you'll find there, waiting to be discovered. I'm constantly amazed at how much change happens in this city.
"Is it a perfect city? No -- there are certainly things that could be improved, but then again, the same could be said for any city. For some it may be the language barrier, for others, the relatively tiny apartments that most people tend to live in.
"Some of these frustrations will drive people away, but those who stay are the ones who have found ways to deal with, and overcome, whatever is thrown their way. Sometimes, the city itself even provides the solutions. Small apartment? No worries, since I can meet friends and spend time in every cafe, bar or "izakaya" (Japanese pub). I don't even have to worry about food storage, what with convenience stores -- and in Japan, they truly are convenient -- at pretty much every corner.
"Tokyo is a city that offers a constant stream of discovery and wonder. Could there be a better place to find yourself as a blogger?"
..................................
Do you agree with Jean? Send us your comments in the "Sound Off" box below and we'll print the best
E-mail to a friend