(CNN) -- A JetBlue flight from Boston, Massachusetts, to Fort Lauderdale, Florida, was diverted Saturday when a fight broke out after someone was smoking in the bathroom, federal officials said.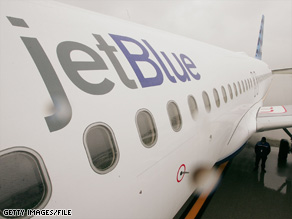 A JetBlue plane was held in North Carolina for two hours while passengers were interviewed.
One passenger aboard JetBlue Flight 455 was taken into custody at Raleigh-Durham International Airport in North Carolina after the plane landed about 5:45 p.m.
A federal Transportation Security Administration spokeswoman said one person was injured in the face by what may have been a punch. She said the fight involved three people who are thought to be related.
According to the airline, there were 88 people and four crew members aboard the jet. The flight had been scheduled to leave Boston at 1 p.m. but did not take off until 3:11 p.m., spokeswoman Alison Eshelman said.
Eyewitnesses said the scuffle was between two brothers, one of whom was angry that his brother had smoked on a plane.
Don't Miss
One passenger interviewed by CNN affiliate WFOR said the fight left one of the men bloody.
"I saw the guy holding his head with the blood coming out," Mike Rocha said.
The jet was held at the North Carolina airport for about two hours while FBI investigators interviewed passengers.
E-mail to a friend

All About JetBlue Airways Corporation