WASHINGTON (CNN) -- Airlines are complying with 98 percent of federal airworthiness directives, the acting head of the Federal Aviation Administration said Friday.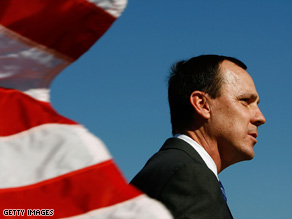 FAA head Robert Sturgell, seen in a file photo, unveiled results of a study done after whistle-blowers' complaints.
The verdict from acting administrator Robert Sturgell follows more than 5,600 audits conducted by the FAA in response to accusations that federal inspectors had become too cozy with the airlines they monitor, allowing corners to be cut.
"These kinds of numbers are no accident. It's not a miracle. It's not luck," Sturgell told reporters. "It's the results of an entire team effort -- the government, the industry, Congress -- producing the safety net we have today."
He added, "Most of the issues of alleged noncompliance involved improper record keeping or the use of procedures without prior approval."
Several FAA inspectors testified before Congress in April that the agency was turning a blind eye to safety violations by Southwest Airlines.
CNN was first to report in early March on the whistle-blowers' detailed allegations after obtaining documents submitted to congressional investigators.
E-mail to a friend

All About Air Travel • Federal Aviation Administration