By David Banks
CNN
ATLANTA, Georgia -- In the world's largest aquarium, where most inhabitants settle for swimming, Nandi soars gracefully through her new home on majestic 9-foot wings.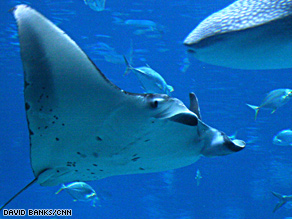 Nandi was found trapped in a shark net in South Africa and nursed back to health.
The latest marquee attraction at the Georgia Aquarium in Atlanta, Georgia, the young female manta ray made her public debut Monday. And in a 6.3-million-gallon tank full of gentle giants, she's already a crowd favorite.
The Indian Ocean native was discovered caught in nets meant to protect beachgoers from sharks in Durban, South Africa. Nursed back to health at uShaka Marine World, the largest marine park in Africa, Nandi was flown this month to her new home at the Ocean Voyager exhibit.
The Ocean Voyager tank was originally built to house whale sharks, the world's largest fish species. Aquarium officials say her new home should give Nandi plenty of room to grow -- the wingspan of an adult manta ray can grow to 20 feet or more.
It's those wings that give manta rays such grace in the water. The fish, the largest of all ray species, propel their sleek bodies through the ocean with strokes of their enormous wings.

Watch Nandi swim through her new home in Atlanta »
Though they look formidable, manta rays are relatively harmless. They have no real teeth and consume food -- normally plankton, small shrimp-like creates called krill, or small fish -- by filtering it through their mouths.
Unlike some other ray species, like the stingray that killed animal adventurer Steve Irwin, manta rays don't have defensive barbs or spines.
The Georgia Aquarium is now just one of four facilities worldwide with a manta ray on display, and the only one in the United States. And lucky for visitors, Nandi is something of a show-off.
"There's no doubt that she doesn't mind the human contact," says aquarium veterinarian Tonya Clauss, who traveled to South Africa and monitored Nandi during the ray's long flight to Atlanta aboard a 747 cargo jet. "I would say she's a bit of a princess and a camera hog."
Nandi is named after the mother of legendary African Zulu King Shaka. Shaka's mother was said to be one of the few who could soothe the king's notorious fits of rage. "When you look at her for a while and watch her swim, she's just a very elegant creature," says Clauss.
Nandi was a very popular attraction at uSkaka Marine World, and Georgia Aquarium CEO Mike Leven says millions more will be able to see the rare fish up close.
"The addition of Nandi ... gives us the opportunity to elevate her as an ambassador for her species," Leven says.
Already 245 pounds and 8 feet across when first rescued, Nandi soon outgrew her 580,000-gallon tank at uSkaka. Clauss says the marine animal community is a close-knit group who together decided Nandi would be better suited for the massive Ocean Voyager exhibit in Atlanta.

Follow Nandi's journey from South Africa to Georgia »
By the time she moved, Nandi weighed about 450 pounds and sported a 9-foot wingspan.
Now, even though she shares the tank with four massive whale sharks and hundreds of other fish, she can disappear for several minutes as she makes slow circuits of the tank's perimeter, so there's plenty of room to grow.
It is because of their groundbreaking work with whale sharks that the Georgia Aquarium team earned the confidence of uShaka's executive director, Dr. Mark Penning.
They raised the profile of the whale sharks and Penning hopes they can do the same for the manta ray. "We see this as a perfect opportunity to create an international partnership and continue Nandi's incredible story, raising worldwide awareness about manta rays," Penning says.
E-mail to a friend

All About Georgia Aquarium • Marine Animals