(CNN) -- Like the Danes themselves, Copenhagen's nightlife is generally relaxed, although not without its surprises.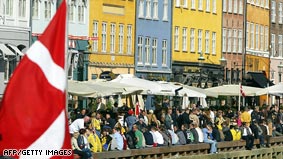 Many of Copenhagen's bars offer outdoor seating, with heaters and blankets in the winter.
There's currently a trend for 'hybrid' establishments that are cafés by day, but morph into bars or restaurants in the evening, and feature a dancefloor-filling DJ when night falls. Zoo Bar (Kronprinsensgade 7) is one of the coolest hybrids, dishing up excellent burgers and drawing a lively pre-club crowd at the weekend.
In the same vein, the sophisticated Aura (Rådhusstræde 4) is a restaurant in the week and cocktail bar on Friday and Saturday nights.
Pussy Galore's Flying Circus (Sankt Hans Torv 30) is the epitome of Danish minimalism -- sleek, stylish and flawlessly decked out in Arne Jacobsen furnishings. The breakfasts are good, the brunches are famous and the mojitos are even better, making it an excellent place to start the day or to kick start the night.
Our Bar (Studiestræde 7) is a friendly hang out, with its soft lighting, earth tones and selection of rather potent cocktails, expertly mixed by the affable bar staff. Just as laid back, and exuding class, is Bar Rouge (Krystalgade 22), part of First Hotel Skt Petri. With the DJ spinning easy listening and jazz, this is the natural habitat of lounge lizards and urban sophisticates.
The city has a small but lively club scene, of which Vega (Enghavevej 40) is a mainstay. As well as being a bastion of quality dance music, it is also Copenhagen's premier live venue. Rust (Guldbergsgade 8) is spread over three floors and attracts the city's finest DJs, who play anything from hip hop to techno. Just around the corner is Sebastopol (Sankt Hans Torv 32), where you can enjoy a pre-club drink at one of the tables that spill outside on balmy summer nights.
While Carlsberg may be Copenhagen's best-known contribution to the noble art of brewing, the city is also home to a handful of micro breweries. Some of these local specialties can be sampled at Nørrebro Bryghus (Ryesgade 3) and Brewpub (Vestergade 29), which has seven, rather pricey, house-brewed beers on tap.
If you're determined to stick with the Carlsberg, be sure to try it at Vinstue 90 (Gammel Kongevej 90). Ask for a slow beer and you'll have to wait 15 minutes for a meticulously pulled draft Carlsberg with a huge creamy head; but with fewer bubbles and bags of flavor it's well worth the wait.
......................
Copenhagen city guide:
Where to stay | What to see | Where to be seen | Where to eat | Where to shop

......................
Do you agree with our Copenhagen picks? Send us your comments and suggestions in the "Sound Off" box below and we'll print the best.
E-mail to a friend