(CNN) -- Sephora is much more than just a make-up shop: It's a shrine to the healing powers of beauty products, complete with friendly assistants who can't wait to work their magic on you.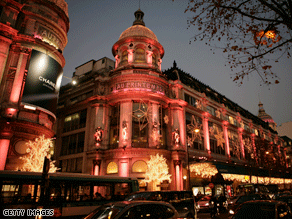 Printemps, Paris' celebrated department store, claims to have the largest beauty department in the world.
It seems like there's one of these on just about every corner of Paris, which is a godsend if your face needs a top up. Make-up junkies who stumble across the giant Sephora on the Champs Elysee will think they have died and gone to heaven. You can play with Dior mascara, Chanel foundation and YSL blusher to your heart's content. No one's going to tell you off -- this kind of behavior is encouraged.
France is famous for its perfumes, but why smell the same as everyone else? Bespoke scent is the latest thing for the loaded. The House of Jean Patou's Parfum-Couture service will set you back 50,000 euros. Other top-end brands are similarly exclusive: Cartier (60,000 euros) and Guerlain (30,000 euros).
There are cheaper options: at Le Cinquième Sens, on rue de Monttessuy, custom blended fragrances start from 95 euros. For the same price, head to L'Artisan Parfumeur, where you can spend a delightful morning learning all about the art of creating heavenly scents. Or check out the perfumes and home fragrances of Parfums de Nicolai (69, avenue Raymond Poincaré), created by Patricia Nicolai, granddaughter of Pierre Guerlain.
If money's no object, head to Avenue Montaigne or rue Faubourg-St-Honore for serious designer labels. Alternatively, try rue des Francs Bourgeois, packed with high-end boutiques -- it's especially good for a Sunday stroll.
Colette (rue Saint-Honoré) is "le dernier mot" in hipness. If the clothes on the upper floors (think Marni et al) are beyond your budget, there's a hipper-than-thou café downstairs selling chi-chi salads and Colette-branded bottled water -- just one of over 60 types (yes, really) stocked in their water bar.
If you're on a tighter budget, or you fancy a bargain hunt, the Marches aux Puces in St Ouen/Port de Cligancourt (everything) or Vanves (bric a brac) are still worth a look, even if the prices are steeper than your average car boot sale. The prices at Porte de Montreuil (clothing, furniture, homewares) tend to be a little lower.
Celebrated department store Printemps is packed with fashion and accessories, and claims to have the largest beauty department in the world. Its 45,000 square meters of shopping holds everything the style-conscious shopper could want, including an entire floor devoted to lingerie.
If Paris inspires you to wax lyrical, head to rue du Pont Louis Philippe. There, you'll find upscale stationers where you can stock up on notebooks for scribbling down your romantic verses while you sip a Pernod at a streetside cafe.
......................
Paris city guide:
Where to stay | What to see | Where to be seen | Where to eat | Where to shop

......................
Do you agree with our Paris picks? Send us your comments and suggestions in the "Sound Off" box below and we'll print the best.
E-mail to a friend