(CNN) -- Gourmets may sigh with delight at the thought of dining in Paris, but many visitors wonder what the fuss is all about.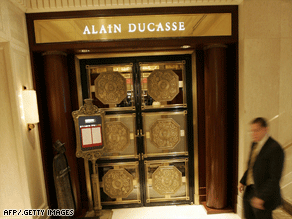 Alain Ducasse, in the Hotel Plaza Athenee, is the perfect place for a romantic dinner for two.
Begin your day the French way, with a café au lait and a piece of satisfyingly crusty baguette (we like to head to Montmartre to the Coquelicot boulangerie on Rue des Abbesses, complete with coffee served in a bowl and homemade jams) then brace yourself for a foray into the back streets.
Our top tip: avoid anything too close to the big tourist attractions -- if the menu comes in four different languages and the clientele are all studying their guidebooks, you're better off skipping lunch! If you've got a serious day of sight-seeing ahead, pack a picnic from the sumptuous foodhall at Galeries Layfayette (Boulevard Haussmann) or visit La Grande Epicerie at the Left Bank's grand dame department store, Au Bon Marche (Rue de Sevres).
A more rough and ready experience awaits at any of the city's street markets. Nearly every neighborhood has one -- just follow your nose or the steady stream of elegant elderly ladies wheeling shopping trolleys stuffed with lush fresh produce.
If you'd rather lunch with the literati, Les Editeurs (4 Carrefour de l'Odeon) should fit the bill. Sink into a red-leather banquette and see if you can spot the publishing sensations of tomorrow while surrounded by books -- and the people who wrote or edited them.
Another good bet if you've been gazing at the Eiffel Tower is the unassuming Le Comptoir de 7eme (Avenue de la Motte Picquet,), for well-presented bistro favourites at reasonable prices.
The best ice-creams in Paris (the best in the world?) come from Berthillon (Rue Saint-Louis-en-l'Ile, Ile St Louis). Prepare to queue -- but know that it's worth the wait!
If the weather is more suited to hot chocolate than sorbet, there can be no better destination than the elegant salons of Laduree, home of the famous macaroons. (Ladurée Royale, Rue Royale or Ladurée Champs Elysées, Avenue des Champs Elysées).
When it's time to dine, carnivores will love the atmosphere at tiny Robert et Louise (Rue Vieille du Temple), where diners share rustic wooden tables and tuck into massive slabs of meat cooked on a cast iron plate over an open fire.
Montmatre's best asset is Le Refuge des Fondues (Rue Trois Freres), complete with Asterix-lookalike waiter. You can't book ahead here but if there's a line outside, rest assured that the queue is worth the wait. Here, you choose either cheese or meat and drink wine out of a baby bottle. (It's a tax dodge.)
It's becoming a bit of a tourist cliché, but no trip to Paris is complete without a falafel from one of the hole-in-the-wall joints along nearby Rue de Rosiers. We like Chez Marianne, Chez Hanna and L'As du Falafel, but there are plenty of others to choose from. Other excellent options nearby -- all offering twists on classic bistro fare - include Le Petit Marche (Rue de Bearn), Bofinger (Rue de la Bastille) and Les Philosophes (Rue Vieille du Temple).
For fabulous fine dining, especially if a romantic supper for two is called for, try Mon Vieux Ami (Rue Saint-Louis-en-l'Ile, Ile St Louis), Restaurant Georges (level six, Centre Pompidou) or Alain Ducasse at the Hotel Plaza Athénée (Avenue Montaigne).

......................
Paris city guide:
Where to stay | What to see | Where to be seen | Where to eat | Where to shop

......................
Do you agree with our Paris picks? Send us your comments and suggestions in the "Sound Off" box below and we'll print the best.
E-mail to a friend