(CNN) -- Florence's beautiful people dress up in their designer clothes to adorn Capocaccia (Lungarno Corsini 12-14) for preprandial posing and delicious aperitivos. Perched atop the Otel Ristotheatre, Terrazza Martini (Viale Generale Dalla Chiesa) is another early-evening hotspot.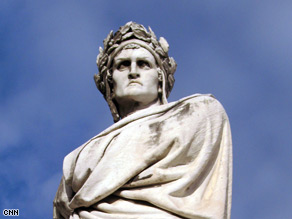 If you're planning on hitting Florence's hotspots, you'll need to dress to impress ...
Florence may not have a thriving cocktail scene, but one famous family addressing the sparsity of martinis is the Ferragamos. Their Gallery Hotel Art by the Ponte Vecchio is quiet, sleek and stylish -- perfect for a discreet drink. Or head to its sister hotel, the Continentale, and sip a cocktail from the roof terrace while the sun sets.
Laid-back local hipsters hang out at Bar Kitsch, a step away from the center next to Piazza Beccaria. Bar-of-the-moment Mojo is easy to spot: the crowds spill out onto the street outside. The Otel Ristotheatre (Viale Generale Dalla Chiesa) draws the cabaret crowd -- show up early for dinner and the dancing girls, then watch as the venue magically transforms into a club.
Later on, the large garden of the three-floored Central Park (Parco delle Cascine) is the place to be in summer, while Yab (Via Sassetti 5r), although generally packed with American students, plays mean hip-hop and R&B on Mondays.
......................
Florence City Guide:
Where to stay | What to see | Where to be seen | Where to eat | Where to shop

......................
Do you agree with our Florence picks? Send us your comments and suggestions in the "Sound Off" box below and we'll print the best.
E-mail to a friend