By Kate Tobin
CNN

(CNN) -- Engineers at the Goddard Space Flight Center in Maryland have hit two new snags in their effort to repair the Hubble Space Telescope after a major equipment failure in space last month.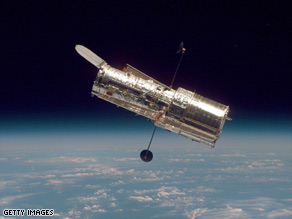 The Hubble Space Telescope's on-board computer went down September 27, interrupting its work.
Hubble team members are combing through data to try to understand the anomalies and come up with a troubleshooting plan, according to Hubble program manager Art Whipple. Whipple remains optimistic that Hubble will resume science operations in the coming weeks.
"We changed a number of things in the configuration of the spacecraft," he said during a teleconference with reporters. "So, this is not entirely unexpected. We expect that we will work through it, and be back up and doing science."
This problem began September 27 with the failure of Hubble's Science Instrument Control and Data Handling (SIC&DH) system. The on-board computer coordinates commands to the satellite's various instruments and then downlinks the scientific data to the ground. While that computer is down, most science observations are at a standstill.
The system was built with a fully redundant backup channel called "Side B," designed to come online in the event "Side A" ever failed. Hubble team members at Goddard began a complicated process on Wednesday to send computer commands to the telescope to switch over to Side B, and hoped to have everything completed by midday Friday.
But issues cropped up in that process Thursday, Whipple said.
Early in the afternoon, there were problems powering up one of Hubble's instruments, the Advanced Camera for Surveys, though other instruments turned on normally.
Later in the evening, a communications failure between multiple onboard computers put all the science instruments, including the main science computer, into safe mode. It is unclear how these problems are related to each other or the activation of the SIC&DH Side B channel.
Ground controllers were able to download data, which is currently being analyzed for clues as to what happened.
"The team is doing well," said Whipple. "I can't say that they'll be getting the entire weekend off, but we are cognizant of the fact that this is a marathon, it is not a sprint, and it is most important that we do things right, rather than fast."
Even if the switch over to the Side B backup ultimately fails, Hubble managers say the design team had the foresight 20 years ago to build a spare SIC&DH system, which has been warehoused at Goddard all this time while the original instrument perked along just fine.
Astronauts who are scheduled to conduct a fifth and final Hubble servicing mission -- now targeted to launch no earlier than February -- have begun training to remove the malfunctioning computer and install the spare.
The Hubble mission was supposed to fly this month, but was postponed when the computer failure occurred to give the ground teams time to check out the spare and the astronauts time to train.
While Hubble has been a scientific workhorse since its launch in 1990, it has been "down" due to technical problems before. It was out of commission for six weeks in 1999 due to the failure of multiple gyroscopes needed to point its cameras. Those were replaced by astronauts during the third servicing mission.
E-mail to a friend

All About Hubble Space Telescope • NASA