(PopSci.com) -- By next fall, NASA plans to launch its biggest Red Planet rover yet, the $1.8-billion, SUV-size Mars Research Laboratory. Even though the MRL will be able to haul five times as much equipment as the Spirit and Opportunity rovers that are already on Mars, a group of Swedish researchers say that they could accomplish far more if accompanied by a squad of helper 'bots.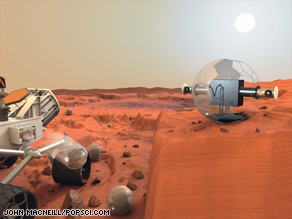 Round robotic sidekicks help NASA rovers scout Martian territory in this illustration.
Fredrik Bruhn, the CEO of Ångström Aerospace Corporation, and his colleagues have designed the small inflatable scouts to assist bigger, less mobile rovers in their hunt for signs of microbial life on Mars.
Each foot-wide, 11-pound ball can roll up to 62 miles, snap photos at any angle, and take soil samples, drawing its power from the solar panels on its shell. Unlike wheeled rovers, the rounded scouts have fewer motors to repair, never flip over, and are easier to seal from dust. Plus, they rarely get stuck.
"The beauty of the system is it needs very little energy to go around rocks, so unless you're landing on a surface that looks like a bed of nails, it should be fine," Bruhn says.
In 2004, Bruhn helped found Swedish company Rotundus, whose Earth-based GroundBot is now test-patrolling a harbor in Stockholm. By using GroundBot's pendulum-propulsion mechanism, swapping in a radiation-proof computer, and designing a lightweight, inflatable shell, he thinks he could produce four of the Mars balls for as little as $6 million.
"We just need to assemble the bits and pieces and test it," says Bruhn, who shows his design to NASA officials this month.
More about rolling around the Red Planet
INFLATION: The deflated scouts are stored in boxes aboard the Mars Research Laboratory. After landing, a latch opens the box, and a spring inside gently rolls them onto the Martian surface. This motion triggers a canister of xenon gas inside the ball to release and inflate the scouts before they hit the ground.
EXPLORATION: Each ball runs on two solar-powered motors. One motor swings a pendulum to move the ball's center of mass, building forward- or backward-moving momentum. To turn, a second motor tilts the pendulum along the main axle -- "the same physics used to fly a helicopter," Bruhn says. The robot can automatically decrease its internal pressure to more easily roll over soft surfaces and patches of sand.
COMMUNICATION: The autonomous scouts would collect data on the conductivity and age of the Martian terrain, take photos, and send information back to the MRL and ground control. The MRL serves as the scouts' communication hub, receiving and transmitting messages from each ball.
E-mail to a friend

Copyright © 2009 Popular Science
All About Mars Exploration • NASA • Space Technology