By Matthew Knight
For CNN
LONDON, England (CNN) -- From columns of cloud streaking over the Caspian Sea in January to vast tracts of cleared forest in Bolivia in December. In 2008, the NASA Earth Observatory has captured more stunning images of the Earth.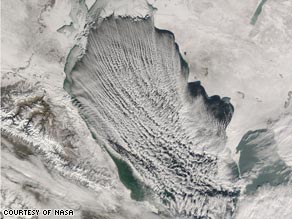 "Cloud Streets Across Caspian Sea": one of many images available at NASA's Earth Observatory.
The accompanying photo gallery is a just small taste of the hundreds of images available. The Earth Observatory online library stretches back to 1999, providing a graphic snapshot of how nature and man create changes on the surface of the planet.
In February, dust storms can be seen curling off the coast of Morocco, carrying plumes of sand out across the Atlantic Ocean. NASA suggest that these storms could be the result of stresses on the land surface -- such as overgrazing and damage to vegetation -- caused by humans.
A satellite image taken in March shows a section of the Wilkins Ice Shelf in Antarctica, measuring 41 kilometers by 2.5 kilometers, crumble away into the sea. And the image of Tokyo at night looks like a giant electrical circuit board -- which, of course, it is.
Meanwhile, south of Sudan's capital, Khartoum, the geometric shape of irrigated fields reveal a man-made collage of rivers and crops while the swollen waters of the Mississippi break the levees in Gulfport, Illinois in June 2008, leaving homes submerged and lives in ruin.
Hurricane Bertha, the first of the 2008 Atlantic season, gathers strength in July and was a record breaker. "Since reliable records began in the 1940s, no hurricane has ever formed so far east before August 1," NASA reports.
Two hundreds miles above Central Asia, the skies are visibly calmer as polar mesospheric clouds are captured on film. While the earth is still shrouded in darkness, the clouds are illuminated by the first streaks of sunlight. NASA says that polar mesospheric clouds are not uncommon over Northern Asia. Some researchers link increased observations of them to climate change.
A picture taken by an astronaut shows the Amazon burnished in gold as the light of a setting sun transforms the appearance of the river and its tributaries in Brazil. While the iridescent waters off the coast of Texas and Louisiana reveal the environmental jolt of a storm surge created by Hurricane Ike.
A contrasting aftermath of nature's force can be seen in the image of the charred peaks of the Chino Hills in southern California which show the extent of damage caused by the recent fires. iReport.com: Are you a stargazer? Share your images
All the images are available in hi-resolution and are free to access. So next time you're bored at work, rather than hunting down the latest salacious celebrity gossip, click on to NASA's Earth Observatory and see the world through new eyes.
E-mail to a friend

All About NASA • Nature and the Environment