By Shehzad Noorani
The following is an excerpt from "What Matters," the latest book by "Day in the Life" series creator David Elliot Cohen. For more information, see whatmattersonline.com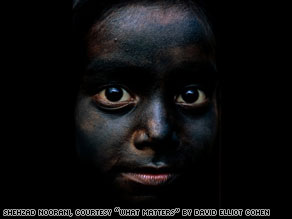 Sathi's face is covered with carbon dust from recycled batteries. She is 8 and works in a battery recycling factory in Bangladesh.
As she cleans the carbon rods from exhausted D-cell batteries, Marjina holds her young child on her lap and gently lulls her to sleep.
Marjina migrated from the countryside to Dhaka, the capital of Bangladesh, with her son and four daughters after her husband died. Now she toils every day in a workshop by the Buriganga River that recycles used batteries.
Wiping tears from her eyes, Marjina tells me, "Regardless of how hard my children and I work, we accumulate more and more debt every month. I don't know what to do. I have nothing that I can sell to pay off my debts."
In my country, Bangladesh, labor comes cheap. On the outskirts of Dhaka, in village-like slums, dozens of workshops recycle the castoff materials scavenged from garbage dumps. One of these unnamed workshops recycles dry-cell batteries.

Hear Noorani describe his photos in an audio slideshow »
Day in and day out, women and children as young as three or four break open discarded batteries with hammers in order to remove the recyclable carbon rods and tiny pieces of reusable metal. Depending upon the speed of their work, they earn between 30 and 50 taka (40 to 70 U.S. cents) per day. For a young child, it often takes more than a week to earn the equivalent of one U.S. dollar.
Like Marjina, many women bring their children to work because there is simply no other place for them to stay. The environment in and around the workshops is loaded with carbon dust and other toxic material. Young children play in these polluted areas until they are tired and fall asleep, and most suffer from chest and eye infections.
Working conditions in these workshops are dismal and depressing. The makeshift cabins are often lit by one sixty-watt bulb or a single small window. The hours are long, the work tedious, and everything -- walls, ceilings and even the children's faces -- is covered with black carbon dust. Often only the whites of their eyes and red shiny lips are visible. The children constantly lick their lips to keep them wet, literally eating the dust particles. The particles they inhale can lead to black lung disease.
It is easy to dramatize the plight of these young workers in order to create a sensational report. As you can see from my photographs on these pages, the visuals are horrific. But I always try to be careful, because as hard as it is to imagine, I know that sensational reports in the media can actually create even worse situations for these children.
Child labor, as UNICEF's annual "State of the World's Children" report explains, is a complex and often misunderstood problem, but here are some of the basic facts: An estimated 250 million children are employed around the world. Of these, nearly three-quarters, or 170 million, work under hazardous conditions -- in mines, with chemicals and pesticides, or operating dangerous machinery.
Although child laborers are ubiquitous, they are often virtually invisible, toiling as domestic servants in homes, hidden from view on plantations or, in the case of Marjina's children, covered in black carbon dust behind the walls of an anonymous workshop.
While not unique among South Asian countries, Bangladesh may present the world's most gruesome picture of the rich openly and grossly exploiting the poor. While economic inequities exist to a greater or lesser degree in every nation, in Bangladesh the inequality between haves and have-nots is startling and unabashed.
It strikes me whenever I see drivers in BMWs, Mercedes and Hummers on the streets of Dhaka, raving and honking behind man-powered cycle rickshaws pulling heavy loads. And as in the rest of South Asia, you can't help but notice the hideous slums that butt up against fancy upper-middle-class apartment blocks. There is no serviceable separation of the classes here.
Open space is almost nonexistent in Dhaka. Regularly battered by natural disasters such as floods, cyclones and resultant soil erosion -- worsening now in the age of global warming -- desperate rural families are migrating to urban areas at an astonishing rate, overwhelming city services. In the last decade, Dhaka has become one of the most densely populated cities in the world. Many rural families move to the cities out of desperation, hoping for better employment opportunities, only to find themselves spiraling deeper into debt with nowhere to turn.
In addition to natural calamities, one of the major causes of Bangladesh's mounting poverty is a lack of government investment in the social sector. This is largely due to the unnatural calamity of corruption that reaches into every imaginable government office.
In 2005, for the fifth year in a row, Bangladesh was at the very bottom of Transparency International's Corruption Perception Index. In 2006, it was third from the bottom.
"Corruption is a major cause of poverty as well as a barrier to overcoming it," explains Transparency International chairman Peter Eigen."The two scourges feed off each other, locking their populations in a cycle of misery."
Government corruption and the resultant cycle of poverty have a direct and calamitous impact on the welfare of Bangladeshi children. More than seven million children work in Bangladesh -- many from 6 a.m. until 7 p.m. -- scavenging heaps of garbage, hammering and breaking bricks under the burning heat, melting and molding metal in workshops.
They work 13 hours just so they can have one decent meal at the end of the day. Their wages are paltry, practically nonexistent. They are exposed to hazards that are inconceivable to most of us.
The sad fact is that these children have to work to stay alive; if they don't work, they don't eat. But, that does not mean that they have to be exploited. In Bangladesh, with one of the largest collections of nongovernmental organizations and international agencies in the world, it is shameful that millions of my countrymen live on the edge of extinction.
But the world being the way it is, and Bangladesh being Bangladesh, I am convinced that no agency or government will be able to fix this situation until there is an economic solution that benefits businesses as well as children. For example, the major export-based industry of Bangladesh, the garment industry, once employed thousands of children.
Generally, they were given lowskill tasks such as cutting and trimming loose threads from completed garments. They helped the sewing machine operators and the finishers who packed the products. The garment industry benefited from cheap child labor, and there was a visible positive effect on the entire society.
But all of this came to an abrupt halt in 1992 when Democratic Senator Tom Harkin of Iowa introduced the well-meaning Child Labor Deterrence Act. Also known as the Harkin Bill, it threatened to ban importation of garments from developing countries that employ child labor. Fearing loss of substantial business from U.S. buyers, frightened garment companies in Bangladesh quickly fired more than 50,000 child workers.
A UNICEF study later concluded that these unemployed children were, for the most part, forced into other work that was often far more dangerous and less lucrative -- breaking rocks, rolling cigarettes,working construction and engaging in prostitution.
This is what concerns me about publishing photographs such as the ones you see here. Seeing images of children working in dangerous conditions for little or no pay, making goods for Western consumers, leaves those consumers with a sense of guilt and powerlessness. The resulting boycotts ease the conscience of the consumers but actually harm the children they seek to protect.
While children can be exploited and abused in all forms of employment, it is the larger establishments, such as the Bangladeshi garment factories, that allow monitoring and control blatant abuse. In relatively decent settings like garment factories, systems can be put in place that ensure some form of education, life-skill training and decent pay. Once the children are thrown out of the garment factories, all that is thrown out with them.
As Shahidul Alam, a photojournalist and a social activist in Dhaka, explains, "The notion that a garment employer might be helping children by allowing them to work may seem very strange to people in the West. But in a country where the majority of people live in villages, where children work in the home and the fields as part of growing up, there are no romantic notions of childhood as an age of innocence."
Not all child work is harmful. Some children actually choose to work, to develop new skills and move toward adulthood. Millions of children work part-time, combining work with school. Often children's wages make the difference between destitution and survival for their families .Take away their jobs and children go hungry, become homeless or are driven to more poorly paid, more dangerous jobs.
Harunur Rashid, a battery recycling plant owner, replied, "When the government forbids employment of children, what happens to the families going hungry? The law itself is good, but you have to be practical."
As horrible as all this may sound, it is important to understand that, for many children, earning a living or supplementing their family's income is a matter of survival. Slogans like "Stop Child Labor" embody romantic and ultimately impractical notions when it comes to places like Bangladesh. Instead of trying to abolish child labor by boycotting goods made by children, governments and civil societies should help create safer working environments for children, ensure that systems are in place to monitor abuse, and provide education and a living wage.
The Amsterdam Conference on Child Labor in 1997, which included young delegates -- working children from Central and South America,West Africa and Asia -- concluded, "Action should be taken to eradicate the most pernicious forms of child labor. But, in the absence of a real assault on the root causes of poverty, children should have the right to work. It is not work but exploitation in the workplace that should be targeted." Until that happens, children will be living and dying in the conditions you see here.
E-mail to a friend

Shehzad Noorani has worked as a freelance documentary photographer since 1987. His special focus is people who live on the lowest rung of the socioeconomic ladder. He has covered major crises resulting from wars and natural calamities in Afghanistan, Iraq, Sudan, Uganda, Sri Lanka, Iran and Bangladesh. Other assignments for agencies such as UNICEF have taken him to more than thirty countries. Noorani has also edited photographs for numerous publications. His work has appeared in Geo, Newsweek, The New York Times, Le Monde, The Guardian and The British Journal of Photography and has been exhibited widely around the world. For Daughters of Darkness, his project on the lives of commercial sex workers, he received the Mother Jones International Fund for Documentary Photography Award in 2000.