By Peter H. Gleick
Photographs by Brent Stirton
The following is an excerpt from "What Matters," the latest book by "Day in the Life" series creator David Elliot Cohen. For more information, see whatmattersonline.com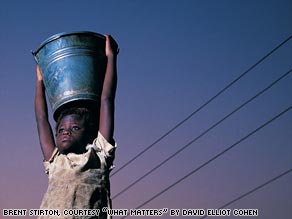 This 4-year-old girl in Ghana walks 2 1/2 miles twice each day to carry water for her family.
Water is the key to life. It is fundamental to all human activities. Water grows the food we eat, generates the energy that supports our modern economies and maintains the ecological services on which we all depend. Yet billions of people worldwide still lack access to the most basic human right: safe, clean, adequate water.
As you would expect, the vast majority of these people are among the poorest in the world, living in sub-Saharan Africa and southern Asia.
Brent Stirton's images tell many stories if you know how to read them -- from the tragedy brought by lack of safe water or too much water, to the joy and life-changing effects that a new water system can offer.

Hear the author describe Stirton's images in an audio slideshow »
Modern society began to flourish only when humans figured out how to deliver reliable water supplies to larger and larger concentrations of people, and how to remove the accumulations of waste that cities produce, thus reducing outbreaks of water-related diseases. Those services, which most of us take for granted, are still pipe dreams for vast populations in the poorest places on the planet.
This failure to meet the basic human need for water has direct, tangible and unacceptable consequences: drink dirty water and you get sick. Witness the father caring for his son afflicted by a guinea worm parasite. See the girl wasting away from cholera. Look at the consequences of arsenic poisoning on Bangladeshi villagers. And know that all of these diseases are completely preventable.
More than half the population of our modern,"civilized"world still suffers from water services inferior to those of the ancient Greeks and Romans. As a result, water-related diseases continue to be a serious problem in many parts of the world.
Water-related diseases fall into several types or classes, but the three that are most clearly associated with the failure to provide safe water and sanitation are waterborne, water-washed and water-based diseases.
Waterborne diseases include those transmitted by drinking contaminated water, particularly contamination by pathogens from human excreta. These include most of the enteric and diarrheal diseases caused by bacteria, parasites and viruses.
Waterborne diseases also include typhoid and more than thirty species of parasites that infect the human intestines. Evidence also suggests that waterborne diseases contribute to background rates of other diseases that are not detected or explicitly reported as outbreaks.
Water-washed diseases occur when there is insufficient water for washing and personal hygiene or when people wash with contaminated water. These include blindness caused by trachoma and diarrheal diseases passed from person to person.
Water-based diseases come from hosts that live in water or require water during part of their life cycle. These diseases are passed to humans when the hosts are ingested or come into contact with skin.
The most widespread types are dracunculiasis, or guinea worm disease, in which a worm up to a meter long eventually and painfully emerges from the victim's skin; and schistosomiasis, a blood infection from a parasitic flatworm that causes chronic debilitation as well as liver and intestinal damage.
Schistosomiasis, which currently infects 200 million people in seventy countries, is so prevalent in certain African and East Asian communities that the process of overcoming disease is considered an important rite of passage.
Clean, safe water and sanitation have successfully eliminated most of these water-related pathogens in wealthier nations. But they remain a major concern in much of the developing world.
According to the World Health Organization, there are on the order of 250 million cases of water-related diseases annually, excluding common diarrheal diseases. In 2000, the United Nations estimated there were more than four billion cases of diarrhea annually and more than two million deaths a year.
Even these horrifically large numbers may be too small; the true extent of these diseases is unknown, and many cases of water-related illnesses remain undiagnosed and unreported.
Disease is only one consequence of the lack of safe water. Look at Stirton's photo of the little girl carrying a heavy load of water on her head. There is more to this than meets the eye. The girl is indeed "little" -- she is 4 years old, and she is beginning what may be an entire childhood devoted to hauling water. She is not going to school. She won't learn how to be a leader in her community.
She will be deprived of some of the most basic benefits of society -- all because there is no local source of clean, reliable and safe water. Stirton photographed a girl, not a boy, because it is the girls who bear this burden throughout the developing world. And her burden is heavy, because water is heavy -- eight pounds per gallon, a kilogram per liter.
My own work suggests that the minimum basic water requirement just for cooking, cleaning, drinking, bathing and simple sanitation is 50 liters per person per day -- which means 50 kilograms, or more than 100 pounds of water, per person every day. Carrying just five gallons -- enough for basic drinking and cooking alone -- means carrying 40 pounds of water. Go outside and try to carry water now. Get a five-gallon container and carry it around the block where you live. It will open your eyes and strain your back. And five gallons is what disappears down the drain when you take a shower for two minutes -- if you are using an efficient showerhead.
Even if girls do get to go to school, unless the school has water and sanitation, they spend much of the day not in class but hauling water to the school. And they often drop out at a young age rather than face the prospect of puberty with no privacy, no sanitation and no proper hygienic facilities.
As with so many of the world's problems, Bangladesh often gets the worst of the water crisis, as Stirton's pictures suggest. Much of the country lives in fear of either too much water or not enough. Floods ravage the country during the monsoons, but inadequate or unsafe water supplies plague millions of villagers the rest of the year.
Prior to the 1970s, most rural Bangladeshis relied on surface water ponds and shallow hand-pumped wells. But industrial effluents and poor or nonexistent sewage systems polluted this water, leading to millions of water-related diseases and deaths.
The proposed solution was to dig nearly four million deep tube-wells to provide access to the presumably less-contaminated water table. And indeed, these wells helped reduce illness and death from cholera and dysentery. Overlooked, however,was the possibility that this groundwater could also be contaminated. \
But in the 1990s, more and more villagers began to be diagnosed with symptoms of toxic poisoning from naturally occurring arsenic. Bangladesh has now learned that millions of people may have traded one waterborne illness for another.
Getting people to change their drinking-water habits is hard: as Khushi Kabir, a Bangladeshi NGO director, said, "It took a long time to get people to use tube-well water, and it will take a long time to get them to change [again]." As if to underscore the challenge, Salim Uddin Mondal, a Bangladeshi villager, when told that his precious groundwater well was contaminated with arsenic, said, "If I die, I will die, but I will not go to fetch water from another man's house."
In a hydrologic quirk of fate, Bangladesh is also vulnerable to cataclysmic flooding, and Stirton has captured the pain and suffering that takes Bangladeshi lives and livelihoods.
The risk of flooding will rise even further in Bangladesh as climate changes become more severe. Sea-level rise will increase the risk of tidal surges, while changing rainfall patterns and rapidly melting Himalayan glaciers will increase the risks of flooding along the region's major rivers.
Water also means food, and lack of water means lack of food. The poorest countries don't have sufficient infrastructure to buffer droughts or shortfalls of rain or runoff. This can mean the difference between enough food and death from starvation, weakened immune systems and competition over resources, as Stirton's poignant photo of a Zambian farmer so tellingly reveals.
There are clear solutions to all of these problems, but new ideas, technologies, tools and, most importantly, concerted effort will be needed to provide universal access to safe, reliable and affordable water to the world's poor.
During the late twentieth century, traditional centralized water systems received most of the limited international funding given to water projects. While these systems often brought substantial benefits to many urban users, their high cost also meant that insufficient capacity could be built to satisfy all users and needs. And the technical complexity of these systems often meant that insufficiently trained personnel could not maintain operations.
Throughout the developing world, we see the skeletons of expensive water systems that were built but never operated, or that operated briefly before failing.
In order to address the overall affliction of poverty, including unmet needs for basic water supply and sanitation, the United Nations and the international community announced the Millennium Development Goals (MDGs) in 2000. These included the goal of reducing by half the number of people unable to obtain or afford safe drinking water and sanitation by 2015.
Achieving the MDGs is a laudable objective, but even if they can be achieved, hundreds of millions of poor people will still lack basic water services. Moreover, we are more than halfway to the target date of 2015, and the levels of financial and institutional commitment to water issues have not been adequate. There now seems to be little chance that the MDGs will be met particularly as they pertain to water.
This must be considered one of the most serious public health crises we face, and it deserves far more attention and resources than it has received so far.
The price for our failure to provide universal safe water and sanitation will be paid by the poorest populations of the world in sickness, lost educational and employment opportunities, and, for a staggeringly large number of people, early death. This is morally unacceptable in a world that values equity and decency. But at present, it appears unavoidable unless we can muster the will and commitment to provide clean, safe water for all.
E-mail to a friend

Brent Stirton is a senior staff photographer for Getty Images. He has photographed water issues in Zambia, Ghana, Sierra Leone, Liberia, Mexico and elsewhere for five years. Stirton works with the Global Business Coalition Against AIDS, the World Wide Fund for Nature, the Ford Foundation and other groups. His photos have appeared in Newsweek, National Geographic, CNN.com, The New York Times Magazine, The London Sunday Times Magazine and other publications.

Peter H. Gleick, who wrote the above essay, is cofounder and president of the Pacific Institute in California and an internationally recognized water expert. He was named a MacArthur Fellow for his work, which addresses the critical connections between water and human health, the hydrologic impacts of climate change, sustainable water use, privatization and globalization, and international conflicts over water resources. He serves on the boards of numerous journals and organizations and has authored and six books.