By Matthew Knight
For CNN





LONDON, England (CNN) -- Forget the "Bird's Nest" and the "Water Cube". If you're traveling to China this summer, or even if you are watching the Olympics on television, make sure you look out for a glittering new landmark structure in Beijing.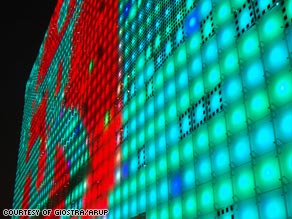 The GreenPix -- Zero Energy Media Wall is one of the largest LED displays in the world.
The GreenPix -- Zero Energy Media Wall -- is a milestone in LED display. Not only is it one of the largest of its kind in the world -- composed of 2,292 LED light which cover a massive 24,000 square feet -- it is also one of the greenest with photovoltaic technology providing the power.
Its creators -- New York based architect Simone Giostra and British building engineers Arup -- say that it functions like an organic system, sucking in sunlight during the day and then using that same power to generate light come the evening.
The simplicity of function is underpinned by some revolutionary new technology.
With the help of German manufacturers Schueco and Sunways, Giostra and Arup developed a new technology for laminating photovoltaic cells in a glass curtain wall.

Rather than placing them uniformly, the cells are arranged in changing densities which allows for more natural light to reach the interior, as well as converting excessive solar radiation into energy thus increasing the building's performance.
Simone Giostra is billing the new attraction as; "the most radical example of photovoltaic technology applied to an entire building's envelope to date". The building -- the Xicui Entertainment Complex -- opened to the public in June 2008.
E-mail to a friend

All About Energy and Power Engineering • Alternative Energy Technology • Summer Olympics • China