By Michael Schulder
CNN
(CNN) -- Rebecca Safran has fooled Mother Nature.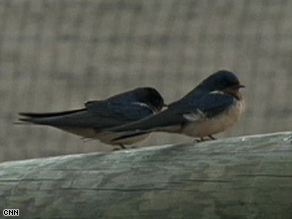 Safran noticed female barn swallows tended to choose mates with the darkest breast feathers.
The evolutionary biologist from the University of Colorado figured out a way to give male barn swallows a makeover that makes less popular males much more desirable to females.
And now, she and her colleagues have discovered that those artificial makeovers are having an unexpected effect.
About eight years ago, Safran expected to find that the length of a male barn swallow's tail feathers determined his level of success attracting mates and breeding. Tail-feather length determines breeding success in this species in other parts of the world.
Instead, she noticed something she didn't expect: Female barn swallows tended to choose mates with the darkest breast feathers.
Those males "bred a lot earlier, attracted the best mates and sired the greatest number of offspring," which Safran says is "the currency of evolution."
The only way to prove the impact of feather color on mate selection was to find a way to color male feathers in a way that looked natural.
Science takes patience and persistence.
Safran and her team tried 30 colors. Nothing worked until, she says, "we came across the Prisma nontoxic permanent ink art marker." The cost: $5.99.
The light walnut shade seemed to match the darkest of the male barn swallow population.
Applying a thin coat of the marker changed everything. Females flocked to the males with the darkened breast makeovers just as they did to the males with naturally dark breast feathers.
Safran did not stop there.
In the latest edition of the journal Current Biology, Safran and her colleagues report that they've followed up on the males with the magic marker makeovers and have found something surprising.
"Simply by changing a male's appearance, his physiology also changed," Safran said. "Males who were made darker lost weight. And their testosterone levels increased at a time in the season when testosterone is usually in decline."
The weight loss may have to do with all that extra time they're spending with female birds.
The testosterone increase may have a more complex explanation. It may be the reception they're getting from the opposite sex. Or perhaps it's the reaction they're seeing from other males.
Or it could boil down to "the clothes make the man" idea, Safran says, which is seen in many parts of the animal kingdom.
E-mail to a friend

All About Nature and the Environment • Evolution