By Kate King
CNN
(CNN) -- Parkersburg, Iowa, is mourning its dead and cleaning up the colossal mess left by a powerful tornado that tore through the town on Sunday night.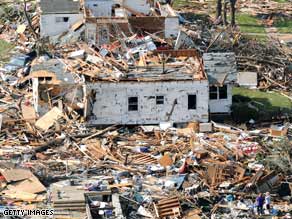 Piles of debris surround battered houses in Parkersburg, Iowa, on Monday.
The tornado killed four people in Parkersburg and two in nearby New Hartford that night; another victim died Monday from tornado-related injuries, according to local media.
The victims are among at least 110 people killed in the United States by tornadoes this year, putting 2008 on track to be one of the deadliest years in recent history.
The average for recent years is 62 tornado fatalities for an entire year.
This year's death toll is already the highest since 1998, with seven months left in the year.
"It does look like it's going to be a pretty remarkable year," said Greg Carbin, a meteorologist with the Storm Prediction Center of the National Weather Service.
Among the victims: a mother who died huddled over her 4-year-old son, protecting him from a tornado in Picher, Oklahoma, the night before Mother's Day; a teenage girl killed when a tree fell on her home in Siloam, Arkansas, as she slept on May 2; and a 2-year-old in Hugo, Minnesota who died Sunday after a tornado hit his home.

Watch devastation in Parkersburg, Iowa »
The figures for tornado deaths have skyrocketed over the past four years. In 2005, there were 38; in 2006, 67; and last year, 81. But experts caution against reading too much into those statistics.
Don't Miss
"What makes a trend?" Carbin asked. "Is it four years, or five, or 10? We've had years with many more fatalities in the past."
And in fact, since the Weather Service began organized record-keeping in 1950, the deadliest year was 1953, with 519 deaths.
The most lethal single tornado of all was even earlier, in the era when record-keeping was spotty: the Tri-State Tornado of 1925, which killed 695 people as it roared more than 200 miles across Missouri, Illinois and Indiana.

See a list of the ten deadliest tornadoes ever »
Annual death tolls in the triple digits were more common in the 1950s and earlier, but that doesn't necessarily mean there were more, or stronger, tornadoes than there are now. Weather radar was in its infancy, the tornado warning system was far less sophisticated, and if a warning was issued, it was hard to get the word out.
One major reason for this year's high death toll is a single night in February, when strong tornadoes tore through Tennessee, Kentucky, Arkansas, Alabama and Mississippi, killing 56 people.
College students and retirees were trapped in collapsed buildings in Jackson, Tennessee; Union University president David Dockery said the campus looked like "a war zone." Homes were ripped apart, and cars and trucks were tossed on interstates and rural roads. In Sumner County, Tennessee, a mother was found dead in a creek bed about 50 yards from where her home had been. Her baby was found alive 250 yards away.
"We know the large number of fatalities from the February 5-6 outbreak were due to a large number of fast-moving, violent tornadoes at night," Carbin said. "As far as the year to date goes, it's really one event with specific characteristics that favored a relatively large number of fatalities, and even that could have been much worse."
It almost was.
"Nashville was just missed by a tornado," Carbin told CNN. "One tornado tracked up to the outskirts on the southwest side of town, it diminished, the parent thunderstorm crossed right over the middle of Nashville," said Carbin.
After the storm passed the city, "another tornado dropped down and killed 22 people in relatively rural areas to northeast of Nashville. If you displaced that 10 or 15 miles, who knows what the toll would have been?"
This year also ranks high in total number of tornadoes -- but those numbers are harder to compare to past years.
January and February are the only months for which final numbers have been confirmed, with duplicate reports of the same tornado eliminated.
January had 84 tornadoes; the three-year average for the month is 34. February had 148, compared to a three-year average of just 25.
A look at the figures since 1950 shows the number of reported tornadoes increasing.

See how deaths, tornado numbers stack up since 1950 »
But Carbin says that may have more to do with demographics than climatology, and the increase in reports may not mean an increase in actual events.
"We're almost entirely dependent on something being struck and damaged, or someone witnessing the event, in order for it to become recorded," he said. "The farther back you go, the more likely it is that there were tornadoes that weren't witnessed, didn't cause any damage."
Scientists can't predict exactly when tornadoes will form, although the twisters normally come out of thunderstorms, which are often the result of high, cold air bumping into warm, moist air. And they say there are no easy answers to why one year gets more tornadoes than another.
A partial answer could be the La Nina weather phenomenon. La Nina refers to cooling in the Pacific that occurs every three to five years -- the flip side of El Nino, in which the Pacific gets warmer. The Earth has been in a La Nina period since last summer.
La Nina provides a good environment for the development of severe storms, Carbin said, but there's no way to prove scientifically that that means more tornadoes -- especially because even big tornadoes are so tiny in scale compared to warming of a massive section of ocean.
Global warming doesn't provide an easy explanation either. Because of the enormous complexity of weather systems, scientists can't decide with any certainty whether a warming planet will mean more tornadoes, or fewer.
Carbin says by late June, tornado activity will start to slow down, although violent tornadoes are still possible at any time of year.
There's no way to know if 2008 will keep up its deadly pace and set new tornado records. But for people who lost a loved one, or their home, the records aren't what's important.
"There's so much hurt here, I don't really know where to start," said Iowa Sen. Charles Grassley after surveying the damage in Parkersburg on Monday.
E-mail to a friend

All About Tornadoes • National Weather Service