By Jacque Wilson
CNN

(CNN) -- He was gone. Kristi and Claudio Lai turned around for just one minute and their son had disappeared at Sea World.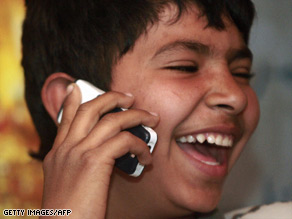 Cell phones in schools can lead to classroom distractions, text-message cheating and inappropriate photographs.
After frantically searching the park, they found him 15 minutes later on a jungle gym. That was when the Simi Valley, California, couple knew they wanted to get Giancarlo a GPS-equipped cell phone very soon.
Their son is 3 years old.
Cell phones are rare in preschool, but as parents fill their child's backpack this month with pens, pencils and other supplies, some may be wondering whether a wireless phone is a necessary back-to-school accessory.
More and more children are showing up at school each August with cell phones, and the Center on Media and Child Health Web site states that 54 percent of 8- to 12-year-olds will have a cell phone in the next three years.
For many parents, a cell phone's convenience and the peace of mind it offers -- being able to reach your child at any time, anywhere -- is hard to argue against. But should every kid have a cell phone? And how young is too young?
Here are some issues parents should consider before buying their child a cell phone for the upcoming year.
Cost
When Kathy Carter's 10-year-old son Jordan first got his cell phone, he downloaded 3 million songs and games. At least that's what it looked like to the Teaneck, New Jersey, mother when she got the phone bill.
Don't Miss
"I had told him not to, and when I asked why he did it he said he just couldn't resist," Carter said.
Rebecca Banghart, of St. Thomas, Ontario, understands -- she used to sell cell phones.
"I've seen plenty of disgusted and disgruntled parents come in with phone bills in the hundreds [of dollars] for their kids," Banghart said. "And then there's the fact that kids will be kids. They play rough with and lose their toys. A phone will be no different."
Certainly the initial cost of a phone is something to consider. Do you want to buy a young child a $100 phone they could drop in a puddle? But perhaps more important is the type of plan you choose. Parents often can save money by choosing unlimited text-messaging options or a plan that restricts Internet access.

See some child-friendly cell phone features »
School safety
Since the 1999 Columbine High School shootings and the 9/11 terrorist attacks, many parents feel better having a way to contact their children. But hundreds of students on cell phones during an emergency can cause problems for responders.
"There's a huge difference between feeling safer and being safer," says Kenneth Trump, president of National School Safety and Security Services.
According to Trump, students' cell phone use during emergencies can do three things: increase the spread of rumors about the situation, expedite parental traffic at a scene that needs to be controlled and accelerate the overload of cell-phone systems in the area.
Tom Hautton, an attorney for the National School Board Association, said that cell phones in schools also can lead to classroom distractions, text-message cheating and inappropriate photographs and videos being spread around campus.
On the other hand, Hautton said he understands how cell phones can ease safety concerns by allowing parents to contact their children when late to pick them up after school.
Sexual predators
The thought of sexual predators reaching her 12-year-old daughter through a cell phone never occurred to Kristi Lai. If your child were talking to someone like that, then you'd have to really not be aware of your kids, she said.
But flying under parents' radar is exactly what predators rely on, said Ted Thompson, president of the National Association to Prevent Sexual Abuse of Children. He believes children's cell phones enable what he calls a sexual predator's "grooming" process.
"A cell phone is with the person who controls it, and most parents don't check cell phones," Thompson said. "It's so much more of a private device."
Sexual predators use technology to gain trust over time, Thompson said. A cell phone allows a predator to maintain an inappropriate relationship with a child while acting appropriately face-to-face when other adults might notice.
Thompson recommends parents use new cell-phone technology that allows them to monitor their children's text messages and locations.
Health risks
In July, the University of Pittsburgh made headlines with a warning to faculty and staff: Limit your cell-phone use because of possible cancer risks. The message from the Cancer Institute director recommended that children use cell phones only for emergencies because their brains are still developing.

See how electromagnetic waves affect a child's brain »
The university center's director for environmental oncology, Dr. Devra Davis, repeated the warning on CNN the next night.
Since cell phones have only been in widespread use for 10 years or so, the long-term effects of their radiation waves on the brain has yet to be determined, she said.
"Young children particularly need to be careful," she said. "We do not have enough information nor do we have enough time to be sure that cell phones are safe, and there's reason for concern that they may be harmful."
Davis's statement sums up the "jury's still out" aspect of this issue. Since cell phones have only been in widespread use for 10 years or so, the long-term effects of their radiation waves on the brain has yet to be determined.
Age, or responsibility?
Nani Sheats, of New Bern, North Carolina, said her parents gave her a cell phone for driving emergencies when she was 16. "I was so busy with school and sports that I rarely used the phone," she said.
Now a mother herself, Sheats plans to follow the same rule for her young children. Sheats and her husband will buy their kids phones only when they are old enough to spend time away from their parents without adult supervision.
Perhaps the biggest factor in children's cell-phone use -- bigger even than age -- is a child's responsibility level, Kathy Carter said. She and her son have conversations about the dangers a cell phone can bring, but they also embrace the wireless technology because of the convenience and comfort it offers.
Kristi Lai agrees that in the end, cell phones cannot serve as babysitters. Although she wants to buy Giancarlo a cell phone at a young age, she would never leave him or her 12-year-old daughter unattended, she said.
"It's just like anything else, and you have to monitor it," Lai said.
E-mail to a friend

All About Cellular Phones • Child Safety