By Mallory Simon
CNN
Watch E3 coverage all week on CNN.com
(CNN) -- Bloggers can't stop gossiping. Readers can't stop guessing. Now, after months of waiting, three big names will finally address the rumors.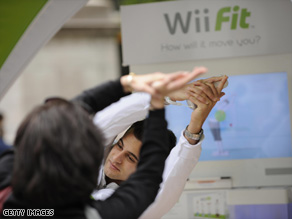 Nintendo's Wii Fit was a big hit at last year's E3. What surprises will next week's show bring?
No, not Madonna, A-Rod, or Lenny Kravitz, but another big-name trio with just as much swirling drama: Nintendo, Microsoft and Sony.
The big three players of the nearly $37.5 billion video-gaming industry will reveal their newest, biggest and most secretive products in Los Angeles next week at the E3 Media and Business Summit, putting a temporary end to the industry's massive game of cat and mouse with consumers.
Each year at E3, game developers and publishers come together to unleash what they hope will become the next big thing.
E3 2007 gave birth to such hits as "Wii Fit," "Mario Kart," "Grand Theft Auto IV," "Call of Duty 4," the Slim Sony PSP and "Rock Band."
In the weeks and months before the conference, serious gamers swarm message boards, blogs and popular gaming Web sites, hoping to outguess each other about what secrets the big names might be withholding.

Watch the editor-in-chief of Gamespot.com talk to CNN.com's Naamua Delaney »
The industry is in on it, too. Game companies often find themselves fighting against moles at gaming stores -- and even within their own ranks -- who leak to the Internet new signs, display art for stores and memos about upcoming projects.
It's not necessarily a bad thing, the companies admit. The guessing helps build buzz for the conference and their potential products -- that is, unless consumers' hopes get too high.
"Obviously we like when consumers are having fun with our products and are communicating their enthusiasm for them," said Denise Kaigler, vice president of corporate affairs for Nintendo of America. "Through the years we have heard every possible rumor. I suppose people like to speculate, but there's nothing we can do for someone who is disappointed that their favorite unfounded rumor didn't come true."

See last year's biggest hits »
This year is no different. All the companies have fought specific rumors -- sometimes outright denying them and other times letting the speculation build until the first press conference on Monday.
Rumors have swirled about the possibility of Microsoft introducing a wireless motion sensor device to rival the Wiimote from Nintendo. Several gaming sites also have shown photos of new signs provided by game-store workers indicating the price of the Xbox 360 will drop by $50.
Sunday night Microsoft confirmed the price drop in a press release. The Xbox360 20GB console will drop to $299.99 in U.S. and Canada. For the original price of the $349, users will now get an Xbox360 with 60GB of storage.
Perhaps the biggest flurry of all surrounds the possibility of a new "Halo" game. Avid fans took to the Web to dissect a podcast from Bungie Studios, the developer of the "Halo" series. During an exchange at the end of the nearly 90-minute podcast, co-hosts Brian Jarrard and Luke Smith hinted a big announcement could be coming at E3.
Jarrard asked Smith if something big will happen on July 14, the day the conference kicks off.
"Somehow that's sticking in my head for some reason. Guess we'll have to see," Smith responded coyly.
Sunday, the buzz grew even louder after someone sent a gaming Web site a photo showing a Walmart internal database with a listing for a video game called "Halo 'Blue.'"
Of the big gaming companies, Nintendo has perhaps kept its E3 announcements the quietest. Executives dismissed Internet gossip about a new Nintendo DS, their portable gaming system, after a photo advertisement was circulated that appeared to show the DS with a wider screen. Nintendo called rumors of a widescreen DS "purely rumor and speculation."
Nippon Ichi Software Inc. of America, a marketing company, came forward and said the difference in size on the ad was the result of editing "for effect."
Kaigler said gamers can expect more usage out of the Wii Balance Board, which debuted last year with the much-anticipated "Wii Fit" game. "We Ski," "Rayman Raving Rabbids TV Party," "Boogie Superstar" and "Jillian Michaels' Fitness Ultimatum 2009," a title from one of "The Biggest Loser" workout gurus, all will take advantage of the balance-board technology.
Some gamers are anticipating a possible Sony announcement about the availability of "Home," which is described as an alternative virtual world, similar to "Second Life," but for the PS3. John Smedley, president of Sony Online Entertainment, divulged only that the company hopes to attract a younger audience while capitalizing on the popularity of Free Realms and whimsical fantasy-type games. iReport.com: What's the best game ever?
Another continuing trend at E3 is the shrinking size of the event. Gamepro.com reports that 400 game companies attended the conference in 2006, but 39 will be present this year. Two years ago, 60,000 people showed up at the event, which used to be open to the public. But last year E3 become invitation-only, and 5,000 spectators are expected to be on hand next week, according to Gamepro.com.
So, what does this year's conference have in store?
Kaigler, like many of the industry executives, won't say.
"You'll have to wait and see like everybody else."
E-mail to a friend

All About Video Games • Halo 3 • Nintendo Co. Ltd.