(CNN) -- You don't always need a fancy cell phone or pricey add-ons to take advantage of today's most useful wireless technology.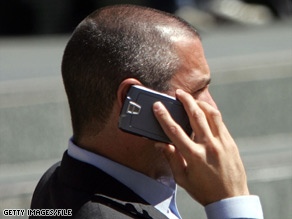 Voice recognition technology now allows you to dictate a message into your phone to be sent in text form.
CNN.com asked experts in the mobile field how users can make the most of what the devices have to offer.
Boost your browsing
If your mobile Web browsing experience leaves something to be desired, you're not alone. Unless you own an Apple iPhone, which many experts say offers more user-friendly Internet capability, small screens coupled with tiny keyboards can make Web surfing frustrating.
But if you have a laptop and a phone, you may be able to use them together to the best advantage, says Chris Silva, analyst for Forrester Research, a technology and market research firm.
Tethering -- or plugging in -- your laptop to your mobile device will allow your computer to use the phone's connection for the Internet.
It's a tool that often gets overlooked, Silva says, but it can connect you at speeds comparable to a DSL or cable modem line.
In the absence of a laptop you can enhance the Web experience on the phone itself by disabling style sheets or java script. The operations are processor intensive, Silva says, making them difficult for a cell phone to handle.
Give your thumbs a break
Need to send an e-mail or text message but your hands are tied? Voice recognition technology has made advancements that can take the burden off your text-weary thumbs.
Jott, a free service and a favorite of Rick Broida, author of "How to Do Everything With Your Palm Handheld," transcribes voice messages up to 30 seconds long and delivers those message via text message or e-mail to anyone in your Jott address book.
For example, Broida says, you can e-mail a co-worker or your entire sales team, all while your hands are on the wheel of your car.
You can also dictate a reminder that Jott will send you in an e-mail and text message, or use in conjuction with other Web services, such as Google Calendar or Blogger.
Services such as SimulScribe and the U.K.-based SpinVox will save you the trouble of listening to your voice mail by transcribing the voice messages and sending them to you in text form.
Similarly, voice recognition software on your smart phone lets you speak into the phone and have that message show up on a computer it's synced with, says Sean Ryan, analyst for market research firm IDC.
Put your camera to use
Whether you're tired of taking notes or your pen runs dry during a business meeting, your phone could come to your rescue.
In addition to using its camera for personal photos, you can take snapshots of notes, whiteboards and documents.
Broida recommends services including Qipit or Scanr, which allow you to convert those pictures to a clearer PDF form. You can save the images online or deliver them as e-mails or faxes.
Save cash overseas
Wondering if you need to get a new phone for an overseas trip? It's not necessary if you're an AT&T or T-Mobile subscriber, says Ryan. Those services use the GSM (Global System for Mobile Communications) standard, while carriers such as Verizon Wireless and Sprint use the CDMA (Code Division Multiple Access) standard.
GSM phones -- but not CDMA phones -- use SIM cards, which carry your user information. Rather than renting an entirely new phone abroad, you can rent a SIM card and stick that into your existing phone, Ryan says. But he warns that you will need a new card for every country you visit because roaming agreements vary. And with each new card, you'll get a different phone number.
Without GSM, you would need a world phone to keep your existing phone and number while you're abroad. The world phone can roam on both the GSM and CDMA networks, allowing CDMA carriers to work around the technology's limitations, Ryan says.
To curb your roaming costs, try to turn off your smart phone's data connection whenever you can, Ryan says.
You're charged by the kilobit when you're roaming, so receiving a slew of e-mails or a stream of information from the Internet can rack up a hefty charge, he says.
Lose your phone? Don't despair
Losing your phone on the road doesn't necessarily mean all the information in it is gone -- or even insecure.
For those with a smart phone that's synced to a corporate e-mail account, an information technology administrator has the ability to remotely wipe the lost phone clean of data and lock it, Ryan says.
He also suggests protecting your smart phone with a password. While you will be able to answer voice calls, your device will be otherwise unusable without a code if it's been idle for a certain amount of time.
To make it easier to retrieve your phone, Broida suggests using a lost-and-found service.
With services such as Stuffbak and TrackItBack, you tag your phone with the company's sticker and then register it. If someone finds it, the sticker will direct that person to the Web site and phone number. The service will do its best to reunite you with your lost phone. E-mail to a friend
All About Wireless and Mobile Networking