By Irving Last
CNN

LOS ANGELES, California (CNN) -- Each November, auto-industry reps descend on the L.A. Auto Show with flashy displays, loud music and stylish new cars.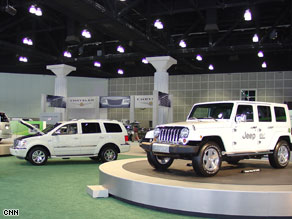 Embattled Chrysler has not unveiled any new vehicles at this week's L.A. Auto Show.
As the first big auto showcase of the North American model year, the event traditionally has been a chance for automakers to generate buzz for their shiny new vehicles and head-turning concept cars.
This week's show, which runs through Sunday, is attracting buzz all right -- but not for its roadsters. The offerings inside the Los Angeles Convention Center have been overshadowed by events last week on Capitol Hill, where executives from the struggling "Big Three" U.S. automakers pleaded with Congress for a lifeline.
Bankruptcy fears have compounded the difficult task that Chrysler, the Ford Motor Co. and General Motors Corp. face pitching new cars in shaky economic times to a wary public. This challenge is on display here in Los Angeles, where penny-pinching automakers have toned down the glitz and stopped giving away key chains.
"The automakers want to put on their best face. They want to show off their stuff as best as possible. But they're completely cognizant that people are worried about their jobs," said Patrick Olsen, executive editor of Cars.com.

Watch a report on the auto show »
"We don't want to make too much noise [here]," Olsen added. "We're not handing out trinkets. We're not doing things we used to do, because we're trying to rein in the costs."
Neither GM nor Chrysler has scheduled any press conferences or unveiled any new vehicles in Los Angeles this week. Displays by the two automakers look more like modest neighborhood showrooms than stages for international media. The Chrysler exhibit, with its older cars under dim house lights, provided a sharp contrast to the glittering Volkswagen display across the aisle.
Ford is being a little more ambitious, with a huge display whose bright lights and massive video screens point curious car shoppers toward its classic -- i.e., gas-guzzling -- 2009 Flex crossover and 2010 Mustang sports coupe. Not surprisingly, it is Ford's new Fusion Hybrid that is grabbing most eyes. Unveiled at the Los Angeles show, the car sits on a rotating platform near the center of the Ford exhibit.
Despite falling fuel prices, good gas mileage still seems to be a priority for consumers in Los Angeles. Tow capacity is out. Fuel economy is in.
"Green cars are big here," Olsen said.
This year, the assortment of fuel efficient and alternative-fuel vehicles is bigger than ever. The show floor features more than 40 new alternative-fuel cars and trucks, some still only concepts.
Chevrolet's display alone boasts vehicles that run on hydrogen fuel cell and ethanol, plus cars with gas-electric hybrid engines and the much talked about all-electric Volt. The highlight of Chevy's toned-down display, the Volt spins slowly on a raised platform in prime aisle real estate.
Other alternative-fuel cars generating interest include the VW Jetta TDI, which runs on clean-burning diesel, gets almost 50 mpg and won Green Car Journal's Green Car of the Year award; and the the newly announced electric Mini Cooper, the Mini E, which can go 150 miles on a single charge but sacrifices its back seat for a 500-pound battery pack. The Mini E will be available for lease in limited numbers under a pilot program in California, New York and New Jersey.
So can all these new alternative-fuel options excite consumers and help save Detroit? Or are the Big Three just throwing darts and hoping that something sticks with car buyers?
One car enthusiast, Henry Watson, said he was curious but skeptical. Watson said he's glad that U.S. automakers are shifting their focus from horsepower to fuel economy but said he fears Chevy's hodgepodge of "green" offerings may just confuse shoppers.
"It might be too much, too late," he said.
E-mail to a friend

All About General Motors Corporation • Chrysler Group • Ford Motor Company