By Curt Merrill
CNN
ATLANTA, Georgia (CNN) -- Don Brown wasn't looking for a new job, but after working through a recent November weekend, he became co-founder of a new Web site.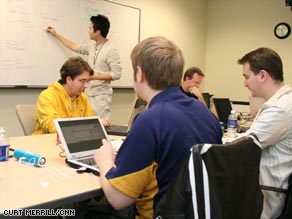 Gentlemen, start your companies! Would-be entrepreneurs at Startup Weekend in Atlanta, Georgia.
The 32-year-old programming consultant helped create Twitpay, a service designed to let people settle casual debts, like splitting a bar tab among friends, using the micro-blogging site Twitter.
Twitpay was one of several projects in development at Startup Weekend, held November 7-9 in Atlanta, Georgia. The event brought together more than 100 programmers, marketers and designers who tried to create new companies from scratch in less than three days.
"The actual building of the product was about 80 to 90 percent done at Startup Weekend," Brown said.
The process began Friday evening when more than 100 entrepreneurs gathered to pitch their ideas. Organizer Lance Weatherby said about 60 ideas were presented. After a series of votes, eight or nine projects were selected, and the attendees split into groups to work on the ones they were most excited about.
The Atlanta event was the 25th Startup Weekend since the concept was created in Boulder, Colorado, in July 2007. Startup Weekends have been held across the U.S. and in a few cities in Canada and Europe. Past weekends have produced such companies as Market Monitor, a search engine optimization tool, and iDream, an online collection of dreams and dream interpretations.
Don't Miss
Clayton Stobbs, the interim CEO of Startup Weekend, says interest in the event has grown with the recent economic crisis.
"Startup Weekend is more of a time commitment than a big expense," he said.
Participants pay $40 for the weekend and are provided meals, a place to work and a T-shirt. Stobbs said some participants just want to try it out during the weekend, and those with full-time jobs don't necessarily want extra work for the long term.
Paul Stamatiou didn't mind the extra work. The 22-year-old Georgia Tech student helped create Skribit at a Startup Weekend in November 2007. The Web site, which he said gets about 4 million hits a month, helps bloggers connect with their readers by taking suggestions for topics to write about.
Stamatiou is one of about 70 people who attended the Startup Weekend last year and one of two who continue to work on Skribit. He plans to work on the site full-time after he graduates next month.
Meanwhile, Brown and his co-workers are trying to turn Twitpay into a successful business.
"I think there will be some exciting announcements coming from us in the next month or so," Brown said.
But Twitpay and Skribit are rare among projects created at Startup Weekends. Many don't see much progress after the event is over. And some don't even survive the weekend.
Dean Gebert attended Startup Weekend because he wanted to help create a program for the iPhone, but his team fell apart six hours after it formed.
"Failure is part of the process," he said. "It just happens very fast."
After his team disbanded, Gebert became a freelancer, lending his marketing expertise to other groups working on their projects. Even though he didn't create an iPhone application like he wanted, he considers the weekend a success.
"I'd absolutely sign up again," Gebert said. "I got to meet some great people."
Stobbs said that's the point of Startup Weekend.
"The projects are a great byproduct, but our goal is to push community," he said.
George Junginger, of Raleigh, North Carolina, has been to four Startup Weekend events and said he's still in touch with people he met at the first one he attended.
"You work like crazy for 54 hours, but it's actually way more than that," he said. "It doesn't end when the weekend ends."
E-mail to a friend