By Eric Marrapodi
CNN
WASHINGTON (CNN) -- Hundreds of thousands of Americans are planning to converge on the National Mall on January 20 to witness the historic moment when Barack Obama takes the oath of office.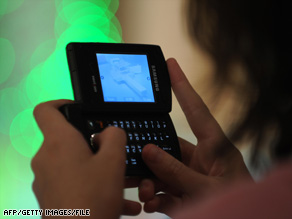 Wireless carriers in the D.C.-metro area are preparing for a massive cell phone traffic gridlock on Inauguration Day.
But if they plan to share the moment Obama utters "so help me God" with friends using mobile phones, they may have to wait.
And wait ... and wait ... and wait.
The cellular phone systems around the National Mall will be overloaded if the expected record crowds show up, according to a spokesman for CTIA -- The Wireless Association, a nonprofit organization that represents wireless carriers.
All those phone calls, texts, pictures and video messages will hit a logjam.
"It'll be like everyone leaving the beach at the same time after the Fourth of July," said Joe Farren. "All roads will come to a standstill."

Watch more about Inauguration Day challenges »
Similar cellular gridlock situations have occurred at Times Square on New Year's Eve. There were some reports of texts not going through for hours last year as mobile systems played catch-up with the data.
In September 2007, when 20,000 civil rights marchers descended on the tiny town of Jena, Louisiana, to protest the arrests of six African-American teens, it also was impossible to receive or make a call.
Don't Miss
Sprint and Verizon are two wireless carriers in the D.C.-metro area spending millions of dollars to add capacity to their cell sites ahead of Obama's inauguration.
To handle the increased traffic, Sprint is planning to deploy resources usually reserved for hurricanes: COWs and COLTs.
The acronyms stand for Cell On Wheels and Cell On Light Truck. The vehicles use satellite and microwave technology and act as mobile cell towers. They are typically deployed to disaster sites when towers get knocked out.
For the inauguration, Sprint says it will increase calling capacity. A COLT will be able to handle about 1,500 extra callers, though only 60 calls can go through simultaneously.
On Tuesday, Sprint technicians added 30 percent more capacity to one site on top of the World Health Organization building in downtown Washington.

Watch report on potential cell phone system jam »
A major security concern for the event is the crush of first responders, dignitaries and police who depend on their mobile phones. First responders will have a priority access code enabling them to get their calls through. But the average citizen may have to wait longer to send that picture of himself on the National Mall to his buddies back home.
Sprint says there is no need to panic -- calls and messages will still go through, eventually. A spokesman recommended that revelers text rather than call, because texts use less data and will get through quicker. Another alternative is to use pay phones or other land lines.
E-mail to a friend

CNN's Jeanne Meserve contributed to this report.
All About Barack Obama • Sprint Nextel Corporation • Verizon Communications Inc.