By Cherise Fong
For CNN
(CNN) -- This holiday season, it seems highbrow concepts are better off making their commercial debut in low-tech gadgets.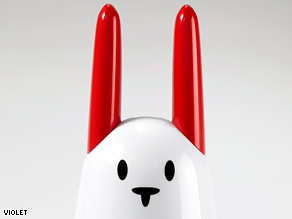 Nabaztag, an electronic device shaped like a rabbit, can read you weather forecasts from the Internet.
"With the current economic situation, I think toys and gadgets which are too complicated, either as a concept, or to operate, will not fly," says Lawrence Cheung, principal consultant of the Hong Kong Productivity Council.
Looking forward to the new year, Hong Kong tech industry analyst and blogger Victor Cheung has his eyes set on an "All-in-One computer that features a multi-touch screen, like that of the HP Pavilion IQ series."
According to Cheung, "2009 will see the Tablet PC finally taking off, with more name-brand manufacturers joining the ranks of HP, Fujitsu, Dell, Lenovo, Toshiba and Kohjinsha.
"Expect to see them coming in all sizes and probably with a multi-touch feature by the end of the year. Don't be surprised to see a MacTablet as well."
As for the mobile-phone market, he adds: "iPhone should continue to rule with a new version before Thanksgiving 2009, with missing features such as Bluetooth A2DP and a changeable battery. A higher-res camera with video recording might be thrown in as well. However, what makes or breaks it depends very much on how open Apple will be with other developers' apps."
Here are some recent high-tech products to watch for, either as holiday gifts or a treat for yourself in 2009:
Nabaztag
More: nabaztag.com
Price: $200
In the merry Internet of Things, mastering a smart object is literally child's play. Start with your friendly wired rabbit. Nabaztag, a rabbit-shaped ambient electronic device, is WiFi-enabled and recognizes voice commands in five languages. It can read you weather forecasts, RSS feeds, SMS and much more, straight from the Internet, in 36 different tongues.
If you prefer non-verbal communication, it can also flash its lights or wiggle its ears to grab your attention, or just play music from an online podcast or radio. Alternatively, let it sniff an RFID-tagged object and see what it does. All the rabbits are interconnected, and as we know, they multiply fast. Already, Nabaztags have been customized by their owners, dressed by designers and conducted in concert.
TOMY xiao
More: zink.com
Price: 34,800 yen ($365)
Leave it to a toymaker to launch a compact camera that targets the kawaii market in Japan, based on the concept of the retro instant-gratification Polaroid. Takara Tomy's 5-megapixel xiao is the first digital camera to integrate the inkless Zink printer, which produces dry, full-color, smudge-proof, tear-proof and water-resistant prints in less than a minute. "Xiao" can mean either small or laugh in Chinese, but inkless printing is a big deal in both the professional and consumer markets, where eco-friendly printers can now be integrated into almost any gadget. Just don't forget to buy Zink paper, which doesn't come cheap at almost 45 cents a sheet. The Xiao is scheduled to launch in North America by April or May 2009.
Eye-Fi 4GB Anniversary Edition SD Card
More: eye.fi
Price: $130
For those who beg to differ with tangibility, Eye-Fi has recently released the 4GB Anniversary Edition of its much-hyped SD memory card, with double the capacity of previous models. The good news is Eye-Fi cards allow your camera to automatically send pictures directly to the Internet or your computer via Wi-Fi. The bad news is it only works within the United States. It's also only compatible with SDHC-labeled hosts, not standard SD. Still, the little card boasts the laudable concept of turning your digital camera into another smart object that can connect to the World Wide Web -- and by extension, talk to rabbits.
PocketCinema V10
More: aiptek.com
Price: $300
One nifty device that does support SDHC, as well as three other memory card formats, is the ultra-portable PocketCinema V10 projector with stereo speakers. About the size of a cell phone, it can beam photos and videos straight from the card, or whatever else you might want to blow up or share directly from your media player, mobile phone, camcorder or game console -- on an image 15cm to 127cm in diagonal, from 21cm to 180cm away, in 640x480 pixel resolution. Picture small, project big.
Flip MinoHD
More: theflip.com
Price: $230
The Flip has been a hit ever since it hit the market as the one-handed pocket camcorder for dummies, simpletons, or anyone otherwise gadget-challenged. No fancy features, no external memory, no extra cables, no removable parts. And now it shoots in HD. Dress it up, point and shoot, flip the USB, plug and play. Edit up to 60 minutes of video with built-in software for simple cuts or fun mixes. All the high-tech exposure automation, light correction and color balancing are out of sight, out of mind. Buy one for your five-year-old, then get another one for your grandmother to prove that it's the person, not the hardware, who makes the movie magic. Just press the big red button.
Livescribe Pulse Smartpen
More: livescribe.com
Price: $150-200
Speaking of old school, Livescribe teaches the old pen and paper new digital audio tricks. Theoretically, you wouldn't have to use a computer at all. Once in action, the Pulse's microphone records surrounding audio, while its built-in camera captures pen strokes in order to retrace your notes. It's potentially handy for reviewing lectures, meetings or interviews, where a tap of the pen on your handwritten scribbles triggers the automatic playback of the audio recorded at the moment you wrote or drew them.
While that sounds like a cool gimmick, the pen's drawbacks are significant: The Pulse only works with specially designed "dot paper;" it requires additional software (and a computer) to actually convert your notes into digital text; and the pen itself cannot connect to the Internet. It launched in early 2008, but at least it's on the right track to laptopless note-taking.
Readius
More: readius.com
Price: N/A
The Readius is another essentially low-tech gadget with a high-tech concept. This time, it's a flexible, rollable electronic-ink display. The Readius is basically a 115g e-book reader that also functions as a 3.5G tri-band phone, MP3 player and image viewer -- in 16 spectacular levels of gray. The selling point is the screen, which rolls out to a 5-inch display that's easy on the eyes and even easier on the battery, allowing up to 30 hours of active, continuous reading. If you're an early adopter, this is definitely one to watch for when it releases commercially in early 2009.
Eco Media Player Revolution
More: ecomediaplayer.com
Price: $200
Not quite the multi-chromatic iPod nano, Baylis' Revolution is a black and bulky heavyweight at 170 grams. However with a similarly-sized screen, its practical functionality far surpasses its prettier, sassier competitor. In addition to standard image, audio and video capacity, it features SD memory card extension, twice the playback time on a fully charged battery, e-book reader, FM radio, hi-fi recording with or without external microphone, and even a built-in flashlight.
But what's so eco about this Revolution? Just attach the hand-crank to the back and wind it up for a minute. You've just generated 45 minutes of audio playback time, if not 3 minutes of emergency talk-time on your mobile phone. Who says wind-up toys aren't the next big thing?
Sakku Buddy
More: sakkuus.com
Price: $289/$393
Of course, much more fashionable than hand-cranking is solar power. If you're going to tote your laptop around in a durable, hefty shoulder bag, you might as well sport a solar-paneled Sakku Buddy made from colorful recycled awnings in Switzerland. While the 19-volt solar panel isn't yet enough to charge an entire laptop computer, a few hours of sunlight can easily recharge a mobile phone, digital camera or media player battery. And as the average lifespan of a solar panel is 20 years, the Sakku will likely outlive any electronic gadgets you may carry inside it.
E-mail to a friend