By Cody McCloy
CNN
GRAND CANYON WEST, Arizona (CNN) -- I was stranded in the Arizona desert in my broken-down truck wondering if I had made a big mistake: Our CNN.com biofuel road trip seemed doomed to fail.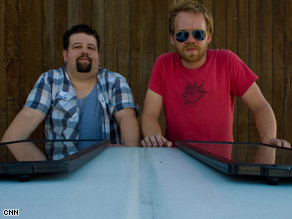 CNN.com's Cody McCloy, left, and co-pilot Brian Hardy set out on their biofuel experiment on July 28.
My newly purchased 1978 International Harvester Scout quit on me during our very unscientific experiment to drive a biodiesel-powered truck from California to Georgia in two-weeks.
Under a hot sun, with no air conditioning in the truck, I feared that my Scout would be stolen while I went for help. Worse, I worried that I'd be forced to abandon the vehicle altogether and return home to Atlanta with my tail between my legs.
But two things happened as I sat in the middle of nowhere, a stone's throw from the Grand Canyon. One: I was reminded of the incredible capacity for people to help total strangers. And two: The Scout proved that it wasn't quite ready for the junk yard.

Watch a retrospective on Cody's trip »
A very generous Grand Canyon West employee named Dave drove me and my co-pilot Brian Hardy two-and-a-half hours to Kingman. There, we rented a car and gathered hard-to-find auto parts that brought the Scout back to life.

See Cody's road trip photos »
Two weeks and 4,189 miles after we set out, here's what we learned:
Lesson 1: The project was designed to start a conversation about alternative fuel. No single fuel is the answer, but we need to start looking at alternatives. Biodiesel's not the only solution, but it's a way to start looking at the problem of how to fuel the nation in a cleaner way, and to do something about it.
Biodiesel is made by chemically modifying vegetable oil. The resulting biodiesel is nontoxic, biodegradable and can be blended at any level with regular diesel. Most diesel cars can run on it, and it can be found in more and more places around the country.
The whole idea of this adventure was to see how easy it is to find biodiesel fuel and to learn what role it might play in our nation's energy future. As the price of oil spiked this year, many Americans started looking for alternative fuels that might pollute less and help the nation break its addiction to foreign oil.
The project got started when I suggested that CNN.com use me as a reporter. I told them I would purchase a diesel vehicle -- sight unseen -- near San Francisco, California, and drive it back to Atlanta, Georgia, on biodiesel and biodiesel blends. When the bosses said yes, I had no idea what I was in for.

Follow Cody's trip on interactive map »
Don't Miss
Driving through the Southwestern United States in August in a truck without air conditioning was an ordeal, to say the least. Much of the trip was spent with windows rolled down. The Scout sometimes blew hot air inside the truck onto our feet.
On one occasion the heat was so unbearable I had to beg Brian, who was driving at the time, to pull off the Interstate and find a convenience store so we could simply stand in the refreshing a/c.
Lesson 2: For long distance trips, you really need to map out your biodiesel fueling destinations and make sure they're open, and I would call places before you stop. Being green isn't necessarily easy, but if you put time into it and think about it, running your vehicle with biodiesel is something you can do to help the environmental problems we face.
The number of fueling stations that offer biodiesel is growing quickly, according to the U.S. Department of Energy, but it turned out to be harder to find than we initially expected. We got a lot of help finding fueling stations from the friendly folks at the National Biodiesel Board.
Trip by the numbers
Days:
13

Distance:
4189.95 miles

Total biofuel cost:
$367

Biofuel purchased:
81.39 gallons

Regular diesel purchased:
74.67 gallons

Source: Cody McCloy/CNN



Reality first set in the day we set off from San Francisco on July 28. A station in Big Oak Flat, California, where we'd hoped to fill up was closed. In Las Vegas, Nevada, Haycock Petroleum provided us with biodiesel, although they normally deal only wholesale.

We estimate we spent an extra five hours traveling off the beaten path in search of the right type of fuel.

As for money, we shelled out $367 for fuel. The best bargain we found was $4.25 per gallon, and the most expensive biodiesel we bought was $5.59 per gallon. We bought 81.39 gallons of biofuel during the trip. When we had no choice, we bought regular diesel fuel, which totaled 74.67 gallons.

Mechanical difficulties

Based on our research of biodiesel hurdles, the mechanical problems we had along the way were fairly typical. That said, this is a 30-year-old vehicle we're talking about, so our experiences likely differ from those you'd get in a newer car.

B100 » (100 percent biodiesel) is a strong solvent, so it can soften and/or dissolve residue left from using conventional diesel fuel, according to the Department of Energy. On top of that, biodiesel breaks down certain types of rubber found in hoses and gaskets, says the DOE.
The agency recommends cleaning the fuel tank if it contains residue and using "extreme care ... to ensure that any part of the fuel system that touches the fuel is compatible with B100."
Unfortunately, we did not take these steps early enough. In Grand Canyon West, six days and 1,200 miles into the trip, our fuel filter clogged up and our tank contents were contaminated.
Apparently a previous owner of the Scout installed fuel lines with pliable plastic tubing. Biodiesel turned this into gunk, which entered the fuel filter.
Two days later after several stops and starts we were able to pump the fuel tank clean of the residue we'd collected during the first few days of the trip.

Watch how we pulled a "MacGyver" around the fuel tank »
Incidentally, auto manufacturers don't warranty engines after they've used blends containing more than 5 percent biodiesel, according to FuelEconomy.gov.
Forward-thinkers
Enough about the tough moments; this was a fun and educational trip!
For one, we visited places voted on by CNN.com users. Including Oxford, Mississippi, and Roswell, New Mexico.

Watch us at New Mexico's UFO museum »
Brian and I met some truly forward-thinking people who are on a quest to develop more sustainable practices in the United States.
In San Francisco, we toured the Solazyme plant, where scientists convert algae oils into fuel, soap and food. The researchers at the plant say if they had the money that is currently being spent on drilling for oil, they could manufacture enough of the product to market and run people's cars within two years.

Watch Cody's interview about algae biofuel »
During our stop in New Orleans, Louisiana, professor Douglas Meffert of Tulane University explained the plan to install turbines in the Mississippi River to help power the Lower 9th Ward, a neighborhood in New Orleans that was devastated by Hurricane Katrina.

Watch us along the "Big Muddy" »
We also heard from resourceful CNN iReporter Dr. Marshall Davis who shared with us how he produces his own biodiesel in his garage at home.

Watch Davis explain what his kids think of his hobby »
We thought we might camp more during this trip, but for logistical reasons, it didn't happen as much as we expected. We camped in Yosemite National Park and New Orleans. When you're on a time-crunch, camping doesn't work and it's not necessarily any cheaper than staying at a motel.
It's been a true adventure -- two-weeks I'm sure Brian and I will never forget. Thanks to everyone who helped us and who offered support as they followed us along the way.
E-mail to a friend

CNN's Debra Alban contributed to this report.
All About Alternative Fuel Vehicles • Alternative Energy Technology • Travel and Tourism