(CNN) -- CNN.com producer Cody McCloy and co-pilot Brian Hardy set out on a two-week cross-country road trip in a 30-year-old truck, which they intended to fuel using only biodiesel.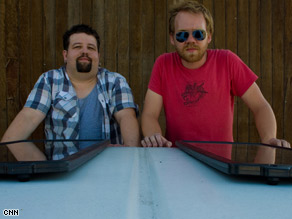 CNN.com's Cody McCloy, left, and co-pilot Brian Hardy set out on their biofuel experiment on July 28.
Not surprisingly, the adventure had its share of challenges, from debilitating car trouble in Arizona to camping out "a little too close" to train tracks.
When they reached their destination in Atlanta, Georgia, the travelers logged 4,000 miles and spent $367 on biofuel.
Follow Cody and Brian's steps in this video retrospective.
Cody takes us on a tour of his vehicle after his adventure, and shares some lighthearted video moments from the trek.

A cross-country trip in a 30-year-old car? Using biodiesel fuel? Cody and Brian prepare for their big trip.

Our drivers find out that planning ahead is key when it comes to finding a biodiesel facility.

Cody finds an iReporter who produces his own biodiesel for his truck.

Cody talks hydroelectric power with University of Nevada, Las Vegas professors during his stopover at the Hoover Dam.

With the Grand Canyon as their backdrop, Cody and Brian experience their first mechanical problem with the International Harvester Scout.

The guys explain their fuel tank debacle.

The team visits the International UFO Museum in Roswell, New Mexico, a location chosen by CNN.com users.

Cody and Brian review the TomTom Go 730 and the Garmin nuvi 880 GPS units. And Brian eats a sandwich.

After an "interesting" night of camping, Cody learns about an initiative in New Orleans that would use the Mississippi River for power.

Cody reaches the last stop on his trip, Oxford, Mississippi, where he learns about the Ole Miss project to use biodiesel in maintenance equipment.

E-mail to a friend

All About Alternative Fuel Vehicles • Alternative Energy Technology • Travel and Tourism