From Jim Boulden
CNN

(CNN) -- The group controlling Internet domain names may soon decide whether to relax naming rules and potentially open up a virtual domain name gold rush.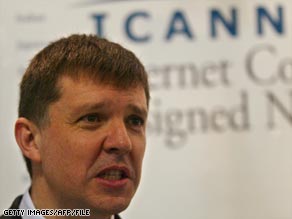 Paul Twomey is president and CEO of the Internet Corporation for Assigned Names and Numbers.
At a meeting in Paris Thursday, the board of the Internet Corporation for Assigned Names and Numbers will vote on two key proposals.
The first would allow domains that do not use Latin characters, meaning domain names using Chinese, Arabic or Cyrillic letters. The other proposal would allow domains to use nearly any letter or number combination, up to 64 characters.
If ICANN approves the proposals, the world of .com and .org and country names like .jp or .fr would be opened to a much wider choice, such as .hotel or .sex.
Just the thought of .sex has bloggers predicting an auction frenzy, as almost any word in any language could become a domain name extension.
"You can almost guarantee the most highly sought-after one will, unfortunately, probably be dot-sex," said Bryan Glick of Computing Magazine.
"All the meaningful words and meaningful names in the English language have been bought up already," Glick said.

Watch Glick further explain the significance of such a move »
Don't Miss
"This is why you see new companies being formed with made-up, strangely sounding names ... in order to get a unique Web domain for it."
ICANN has turned down requests for .xxx, which would be used by adult sites, over fear of seeming to give approval of pornography sites.
Analysts say .xxx and nearly everything else would be possible if the rules are relaxed.
Among the exceptions would be trademarked domains, such as .cnn or .microsoft not being on general sale.
But the more generic .hotel or .flight could set off a bidding war similar to when .tv was put up for sale by the Pacific island of Tuvalu.
E-mail to a friend

All About Internet Domains • Internet Corporation for Assigned Names and Numbers