From Paul Courson
CNN
(CNN) -- A contract to build what is being called the nation's first offshore field of wind turbines was announced Monday by a Delaware utility and a firm that will build the generators off the Atlantic coast.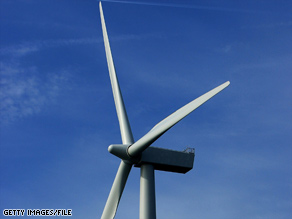 The 150 wind turbines off Delaware are expected to be operational in four years, say developers.
Officials from Delmarva Power and Bluewater Wind announced details of their agreement in Newark, Delaware.
Bluewater spokesman Jim Lanard said the power company will get about 16 percent of its electricity from a field of 150 wind turbines, anchored in the seafloor about a dozen miles off Rehoboth Beach, Delaware.
The contract with Delmarva would use less than half the projected generating capacity the energy park is expected to have when completed. The rest would be sold to other customers.
The project's cost is estimated at $1.6 billion, according to a project official with Bluewater.
The offshore site is expected to be operational within four years, but the timing depends on how quickly regulatory agencies can review and approve the construction project.
Don't Miss
Using electricity generated by the wind, "Delmarva Power will be able to light about 50,000 homes a year, every year" for the duration of the 25-year contract, Lanard said, with first power expected by 2012.
He said the project may help stabilize consumer energy costs, since the contract locks in the price Delmarva will pay per kilowatt-hour.
Bluewater has previously established an offshore "energy park" operating off Denmark.
Each turbine in the Delaware project is to sit on a pole about 250 feet above the waterline, where the ocean is about 75 feet deep. The poles are to extend 90 feet into the seafloor, and the units are to be constructed to withstand hurricane-force winds.
From the shore, the park will be visible only on clear winter days, and the turbines will be nearly invisible during summer months when Rehoboth Beach fills with vacationers, Lanard said.
Each blade on the three-blade rotor is to be 150 feet long.
"If they can see them at all, the turbine blades would cover about the size of your thumbnail, and the poles would be about the width of a toothpick," he said.
E-mail to a friend

All About Delaware