(CNN) -- Stephen Colbert may have already earned the title of "Greatest Living American" but now he can add "Webby Person of the Year."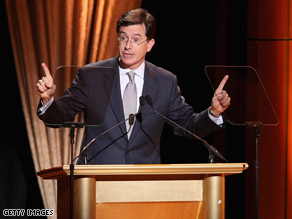 Stephen Colbert won the Webby Award for "Person of the Year."
Colbert became the "Greatest Living American" in the eyes of Google thanks to his fans who took to the Internet and "Google-bombed" him to the top.
They did so by posting comments all over the Web that contained his name and "Greatest Living American" to make him the top result when anyone searched Google for the title.
Colbert's use of the Internet, including challenging the "truthiness" of Wikipedia, attracting 78 members per minute to the Facebook page for his candidacy for president and his ability to get fans to rack up donations online for DonorsChoose.org earned him the award.
The Webby Awards honor excellence on the Internet, including Web sites, online film and video, mobile Web sites and interactive advertising from around the world. CNN.com received the People's Voice award for best mobile news site.
Black Eyed Peas member will.i.am won Webby Artist of the Year for his viral video "Yes We Can" in support of Barack Obama. The video, which was posted in February, has been viewed more than 17 million times since it was posted on YouTube.
The awards have been presented by The International Academy of Digital Arts and Sciences since 1996, but users also play a part in picking the winners. For each of the categories a winner is chosen by both the Academy and the popular vote, which is cast online.
In some cases the judges and the popular vote match, but in many instances they are different.
The pop hit video "Chocolate Rain," which won a YouTube awards, was snubbed by the Academy, but won in the popular vote for Viral Video. The Academy chose "Here Comes another Bubble" instead.
Some of the winners:
• Blog-Political: Huffington Post
• Blog-Cultural: PostSecret
• Magazine: National Geographic
• Best mobile news site: CNN.com (voted by People's Voice)
• Newspaper: NYTimes.com
• Politics: FactCheck.org
• Community: Flickr
• Do-It Yourself/HowTo-Video: My Damn Channel's "You Suck at Photoshop"
• Weird: Passive-Aggressive Notes (Academy), I Can Has Cheezburger? (Popular Vote)
• Social Networking: Flock The Social Web Browser (Academy), Facebook (Popular Vote)
• Comedy - Long Form or Series: "Wainy Days"
E-mail to a friend

All About Internet • The Black Eyed Peas