By Justin Armsden
CNN sports anchor and correspondent






Mexico in face masks
April 28
We're in Mexico for our Lorena Ochoa focus show and our excitement over the fact she won the Corona Championship in Morelia has been subdued by the outbreak of the Swine Flu.
Our attention has been diverted away from covering Lorena's amazing story to exploring reaction to the outbreak from Mexican's living in Morelia and more lately in Lorena's home city of Guadalajara.
Both cities are to the west of Mexico City by a few hundred kilometers. Guadalajara is a beautiful city, bathed in sunshine of course, with some wonderful Spanish influenced architecture -- it's a shame that so many people are walking the streets with face masks on.
But there is no sense of panic here, more of a sense of business as usual. Our team of three, that includes producer Chris Eldergill and cameraman James Stacey, has to be vigilant as well as it appears the virus is highly contagious.
We tried to buy face masks and antiseptic hand wipes but every pharmacy in the city we visited was out of stock -- sold out. So we are washing our hands at every opportunity.
As I write this, it's Monday and I have just filed a story for news on the impact of the virus and the fears that it may turn into a pandemic. We are here for the week and hopefully by Tuesday we can get back to focusing on Lorena.
I'll let you know!
Augusta finds the right balance -- at last
April 13

Finally some fizz returned to the final day of the Masters. Augusta National's decision makers decided that, after years of "Tiger-proofing" the course, they had made it too difficult in recent times -- and killed a lot of the drama.
The field was always on the defensive and too scared to take it on, with a disaster at some point a near certainty.
The pin positions over all four days were friendlier and gave the players a chance of posting a score. Anthony Kim's round of 11 birdies was just mind blowing.
Even the players themselves admitted that they were surprised to see the kinder pin spots on Sunday, which gave everyone hope of making a charge.
Phil Mickelson provided the exact spectacle over his front nine, six birdies for 30 strokes. That has been the hallmark of the Masters for decades. It was someone making a Sunday charge because it was made possible with the right set-up. But that one small slip, like Mickelson's double bogey on the par 3 12th, could also dash your hopes.
Tiger even had a chance of coming from nowhere right up until the last couple of holes.
It was one of the best Masters in recent times and it seems Augusta has finally found the right balance. Let's just hope they don't do what they love best and fiddle with the layout just because they can afford to do it.
Why you should watch Rory
March 30

Three starts in and Tiger Woods grabs a victory at a tournament and course he has dominated throughout his career with a monster putt on the last day. That's the second year in a row he has done that.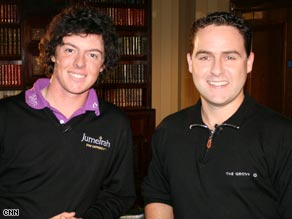 CNN's Justin Armsden with Rory McIlroy at the Lough Erne Golf Resort in Northern Ireland.
His win should put to rest for the time being any doubts about his ability, post knee-op, and chat about him losing his top spot in the world rankings.
And no wonder the golf industry begs for his presence when he creates such drama -- so bring on the Masters in April.
No doubt some excellent stories unfold during the event with Tiger in the field but one player I will be watching closely is Northern Ireland's Rory McIlroy -- who admits to being a big Tiger fan.

Watch a preview of the show »
I have just returned from a week in Northern Ireland filming with Rory and exploring his hometown Holywood, near Belfast.
After a visit to his former school and golf club I discovered that he was a born professional golfer -- the sort of natural ability and drive to be the best that is the bedrock of all sports champions. The stories we uncovered about his progression to international sports star were a real eye-opener.
If you think he looks so young and fresh faced now, you should see some of the pictures of Rory in his early teens hanging on the wall at Holywood Golf Club where he has won many trophies.
His father and uncle have also scooped their fair share of titles at Holywood Golf club too.
I also found high praise for his personality and his temperament from his head teacher which has carried over to his life as a pro golfer.
His attitude has helped make him popular with U.S. crowds who love Tiger but would love it more if a young gun could step up and create a dream rivalry.
That's just one of the reasons why I will be watching Rory compete in his first Masters to see how he copes with the expectation that he might just be the one.
Mickelson to be number one?
March 16
The CA Championship at Doral, Miami, revealed a lot about the comeback of Tiger Woods and those around him than when he returned at the WGC matchplay.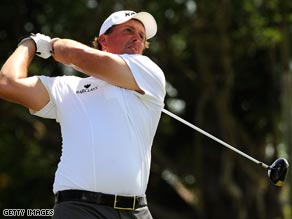 Phil Mickelson hits a shot during the final round of the World Golf Championships-CA Championship in Florida.
Now all the hype has died down about his return everyone is back to noticing the incredible talent of those in the world top 20 -- especially Phil Mickelson.
I think the year ahead presents one of the most exciting we have seen on the mens' side of pro golf for a long time. Tiger's world number one spot is vulnerable and I think he realised at Doral he has a lot of catching up to do.
Lefty, Mickelson, has the best opportunity he has had in many years to really rise to number one and offer us golf fans the challenge to Tiger we have been graving.
His win, while feeling ill, showed just how good his game is right now. Some of his chip shots into the cup were nothing short of amazing and not even Tiger at his best could match that kind of consistent touch.
Don't Miss
Tiger will add one, maybe two, more tournaments to his schedule before the Masters next month to improve his touch. It was certainly on its way at Doral.
The contest between Tiger and Mickelson come the Masters will be awesome. And throw in some of the fearless guns like Villegas, McIllroy and Watney and we have a terrific tournament in store.
The Tiger is set to pounce once more!
February 20
Tiger Woods has confirmed his return to competitive golf at the WGC Accenture Matchplay in Arizona as the defending champion.
It's not like your normal strokeplay event -- it's one where players are paired in pretty much a knockout competition until we get to Sunday's final.
And it can be tough going with 36 holes during the final on Sunday -- if Tiger makes it through to the final, it will test his physical state like no other tournament.
The WGC's (World Golf Championships) are great events for Tiger to come back into as well as he has dominated them over the years.
I feel for young Aussie Brendan Jones, ranked 64th in the world, who has Tiger in the first round -- the atmosphere on the first tee will be enough to make you melt and then you have to deal with the hungry beast.
Aside from the excitement of watching him progress over the next few months and how those in the top league react to his presence, it's great for golf overall.
The sport needs him back, urgently. Sponsors are pulling out of events around the world and they need the man who draws a bigger audience than anyone to make an appearance.
And let's face it -- whether you are a golfer or not -- the headlines surrounding his return might just help to draw our attention away from all the doom and gloom being reported.
Irish teenager a good bet
February 17
Rory Mcllroy has long been touted as the best talent to be produced in Europe since Seve Ballesteros. The expectations of the 19-year-old have been huge over the past 12 months and he answered a lot of questions with his win in Dubai.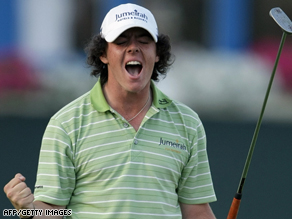 Irish teenager Rory McIlroy celebrates after winning the Dubai Desert Classic golf tournament on February 1, 2009.
I was standing behind the 18th green when he had a delicate and daunting bunker shot that if he got wrong would have put the ball in the water.
Then he had a three foot putt for the tournament. He handled the situation perfectly for his first win as a pro and now that is out of the way he'll be collecting a lot more trophies in the next year.
Next year a fit Tiger returns to Dubai where Rory will be defending the trophy. Tiger will get a closer look at someone who is sure to challenge his top world ranking when the pair play in a practice round at Augusta in April before the Masters.
And Tiger will be able to see why his good friend Mark O'Meara described Rory as possessing more talent at 19 than Tiger!

Wie can do it
February 13
Finally Michelle Wie is on the right career path. After qualifying properly for the LPGA Tour through Q-School she hit her first event in Hawaii at the SBS Open.
Huge crowds turned out to watch her, boosted by the fact that Wie is from Hawaii and the tournament is on her home island of Oahu. She has been a local superstar since she first teed it up alongside the men and, despite an unsettling 18 months that raised a lot of questions about her career, she still has a plenty of support.
Wie handled the attention and pressure with near perfection, notching up a first round 6-under 66.
I have a particular interest in following Wie's career after we spent a week with her in Hawaii a couple of years ago just before she signed mega-sponsorhsip deals and turned professional.
Life has not been good on the career side of things since then, it has to be said.
Her first round effort in Hawaii says a lot about reassuring us that, wrist injury aside and with the right strategy both on and off the course, she still has superstar potential. She hadn't played on U.S. soil since being disqualified from a tournament last July and suffering the wrist injury.
With Annika Sorenstam now fully sidelined for what she described as time off, it will be great to see if Wie can rise to the occasion and take on Lorena Ochoa for world number one. A kind of Federer vs. Nadal rivalry that women's golf would dearly love to have at their disposal to boost the exposure of the game and a lure to advertisers who are certainly harder to come by these days.
A change from the norm
February 3
Boo Weekley is certainly a different kind of character on the golf tour. His attitude isn't stage-managed and he is bluntly honest about his chosen career.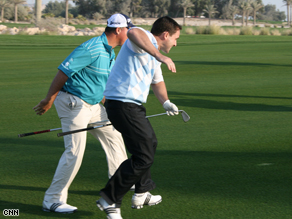 CNN's Justin Armsden threatens to pass on the inside during a re-run of the famous Boo Weekley dash.
He's in it for the money and just can't wait for the day when he can sit on a pretty penny and go "fishin and huntin".
I played in the Qatar Masters Pro-am with Boo in Doha where we filmed the round. I got to know him a little better and of course we replicated his now famous Ryder Cup gallop that lit up the crowds at Valhalla last year.
I'm not sure it's my most glamorous moment in front of the camera but it was an hilarious moment running down the 18th fairway.

Watch Justin and Boo in full swing »
Boo shouldn't be misunderstood though. He still has a great amount of respect for the fans many of which he was only too happy to chat with during our round.
He's a refreshing break from the norm among the players and I hope he stays on tour for a long time.
Montogomerie to lead at Celtic Manor
29 January
Rumor and speculation was rife that Colin Montgomerie was going to take the position for the Celtic Manor in 2010.
Something must have definitely leaked from the 15-man player committee meeting in Abu Dhabi two weeks ago, as the speculation proved to be spot on.
Before the leak, Monty's odds with the bookmakers were 50-1. The committee wanted someone who could connect with the players better than Nick Faldo did at Valhalla, when Europe lost to America.
Monty is still playing, so his name was thrown up at the meeting, and he was pretty much told that 2014 -- the year he had set his heart on the Gleneagles in Scotland -- was out of reach, as he would have more than likely retired from playing, and will be over 50.
I like the choice for 2010, and it pretty much leaves Spaniard Jose Maria Olazabel in the box seat for 2012.
Monty can be cranky at times, but when in form, like he was when we spoke in Dubai immediately after the announcement, he can be an engaging character.
Let's hope he maintains that attitude as the pressure mounts during the build-up next year.
You can hardly knock the guy's experience in the event -- his Ryder debut was in 1991, and he has been schooled by such wily captain's such as Sam Torrence, Seve Ballesteros and Bernhard Langer.
He will also have a wealth of European talent at his feet. The Scot will need to draw on all his experience if he is to wrestle the cup back from Corey Paven's American team -- and it won't be easy.
Top tips from Butch Harmon
January 26
Butch Harmon has coached the best in golf -- Tiger Woods, Greg Norman, Phil Mickelson and Adam Scott.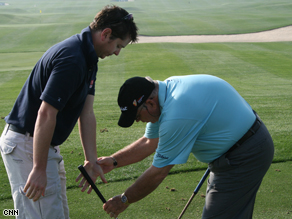 Top coach Butch Harmon shows CNN cameraman Andrew Waller how it's done.
Now he can lay claim to coaching the worst which is why I rate him as one of the best guys of have met and interviewed while hosting CNN's Living Golf show.
We're in Dubai filming with Butch for one of our shows as he officially opens the Butch Harmon Academy at the Els Club in Dubai Sports City.
A big day for Butch and a busy one doing several interviews but the work horse was only too happy to offer 10 minutes of his time to Living Golf cameraman Andrew Waller, who only started playing 12 months ago.
What an opportunity for Andrew! What a kind gesture from Butch whose time is sought by top pros around the world. Andrew has the picture as an eternal reminder of a unique lesson. I, for one ,will remember my time with Butch with great fondness -- not just for his insight into the sport we love but his sharp wit and personality.
Now I will see if Andrew makes the most of his tips.
Who will be the next European captain?
January 20, 2009
The Living Golf team is in Doha, Qatar right now where the Commercial Bank Qatar Masters is underway this week.
But it seems the next captain of the European Ryder Cup team is drawing more attention than the tournament, and it all kicked off last week in Abu Dhabi.
News blew in from the desert during the Middle East swing like a sand storm that Colin Montgomerie was about to get the thumbs up from the players' committee when they make their final decision next Wednesday in Dubai.
The two choices seem to be either Monty or Spaniard Jose Maria Olazabal but the Scotsman looks odds on (as per the bookmakers) for the job. Who do you think should be the next European team captain?
Either player is a great choice but seeing as though it looks like Monty I think it would be an excellent decision.
There's not too many with more experience or with a better Ryder record. He is well liked among the players even though his relationship with members of the media can get a little edgy at times.
He's played under some great captains like Sam Torrence and Bernhard Langer and they would be only too happy to offer a few hints on how to win back the trophy at the Celtic Manor next year.
Monty would be in his late 40s and young enough to still connect with the younger members of the team -- he would more than likely be still playing, so have lots of chances to asses the guys out in the field.
At least in the build-up to the Celtic Manor the focus would be more on the team rather than an individual once dubbed "Nasty Nick," which dominated Nick Faldo's build-up to Valhalla, where his team was soundly beaten in all departments.
Sitting down with Sorenstam
December 15, 2008
I have just returned from Dubai where I sat exclusively with Annika Sorenstam before she played her last round as a professional. The interview will run on next month's Living Golf.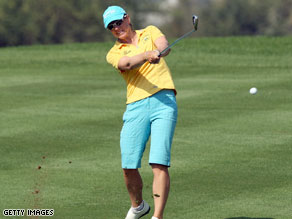 Annika Sorenstam played her last round of professional golf in the Dubai Ladies Masters Day December 14, 2008.
It was a privilege to spend time with someone who dominated her field for so long and carried herself with such dignity throughout 15 years as a pro golfer. Not an easy job to do when you consider the playing, commercial and media demands on someone with so much talent.
Annika will marry Mike McGee in January and you can't help but wish them both the very best as they enter a new phase of their life together and plan a family.
At 38 years old she still has the game and fitness of someone much younger than her but she doesn't have that same desire to train and play that was crucial in keeping her at the top.
Somehow I feel Annika will make a comeback at some point. She is building a business empire through wine and perfume production and her academy.
You don't work that hard over 15 years to establish a brand as big as hers and then slip off quietly into the background. A comeback would generate a lot of publicity and be a great opportunity for her to promote the brand. Let's hope she makes a return anyway.
John Daly branded as a "train wreck"
December 4, 2008
Poor old John Daly heads down under for a bit of golf at the Australian Masters and gets branded a "train wreck" by another player.
I must say it's a bit harsh to drag the man's personal life up as he prepares for a tournament. The suggestion was, with some merit as his world ranking is into triple figures, that the Aussie crowds are drawn to see him more for his reputation as a party player than tournament contender.
But let's not forget that he is a Major winner and still smashes a golf ball into the atmosphere....it's fun to watch. What do you think? Sound Off below
Perhaps the Aussie crowds are making a point in being big fans of Big John. Today's modern young players are well groomed, clean living, innocent, fit and don't smoke... Daly is the polar opposite.
He is the last of a dying character in golf, someone to behold not describe as a train wreck -- we all have our demons.
Credit crunched on the tee
It's interesting to note that Tiger Woods and General Motors are parting company which will cost the world number one about $7 million a year in sponsorship.
It's a drop in the bucket to him but I fear it's the trickle before the flood of announcements surrounding sponsorship of players and tournaments.
Car makers and banks sponsor many tournaments around the world both on the women's and men's tours.
The Ladies European Tour in America lost a tournament in India last month because of the credit crunch and the LPGA in the States has suffered too with Safeway tightening its belt.
It has been riches for all in the world of golf in recent times, especially for the players. They might be a bit more nervous now, even before they head to the first tee.
The new Bernhard Langer
November 4, 2008
I met Martin Kaymer for the first time in Abu Dhabi in January when he won his first tournament just a year after turning pro. Living Golf producer Chris Eldergill and myself, and I am sure many others, were amazed at just what an exciting prospect he was back then.
And hasn't he lived up to expectations! Two victories and three second-place finishes, a Ryder Cup first reserve and a top 10 finish on the European Order of Merit.
He is most certainly the best player to come out of Germany since Bernhard Langer and that's why we were very keen to learn more about him.
So we worked with his manager Johan Elliot to meet Martin in his home city of Dusseldorf -- a modern, vibrant place, which I would thoroughly recommend.
We spent a couple of days with him at the end of a long hard season and he was a little jaded.
Sound Off
I can't blame him. He flew in from Portugal the same day of our interview and had pretty much been to all points on the compass while on tour throughout the year. Life as a pro golfer isn't as glamorous as you might think -- when you're in good form you play as much as physically and mentally possible to make the most of the form and the travel certainly wears them down.
But Martin was terrific to interview. I hope you get a chance to watch November's Living Golf because Martin has a lot of interesting things to say about his career so far and why he has performed so well. I think he is quietly surprised too about his performance.
We did the interview with Martin in the old city center, the Altstadt, at a brewery called the Uerige. Dating back to 1862, it was a wonderfully authentic location and the perfect place to taste the local brew after the talking had been done... Well it would have been rude not to!
And just to add a little flavor to the program, Martin and I went go-karting, something he has enjoyed doing since childhood. Fourteen years my junior, he is a hell of a lot fitter and was always favorite to win -- and he did! However, I am sticking to my story that I backed off in fear of crashing into him and breaking his leg... could you imagine?
Special thanks to the team at Amazing Dusseldorf who helped make our stay in Germany so pleasant and improved my very limited German vocabulary!
Limbering up for the Race
October 9, 2008
Golf fans around the world will be getting an eyeful of material over the next few weeks about the European Tour's Race to Dubai that officially gets underway in Shanghai next month
For us on Living Golf we were given a taste of what's ahead during a media day at Turnberry in Scotland in early October. Turnberry, the venue for next year's Open Championship, is owned by Leisurecorp, the company that works with the European Tour on the Race to Dubai.
Just about everyone I know reminds me that my job must be about the best one the planet -- and it really does hit home during events like this.
Leisurecorp don't do things by halves and the brains behind the company put up a great show at Turnberry.
As well as the European Tour revealing the new schedule for 2009 there was a gala evening at Culzean castle, a session with the Taylormade club fitters and their TrackMan technology. This technology puts every part of your swing under the microscope -- I am not sure I need feedback that brutally honest with my swing.
The European Tour is lucky to have Leisurecorp on its side in these tough economic times. They are helping the Tour pave the way for a great future for professional golf outside of America.
A round of golf at Turnberry included a media tournament where Sergio Garcia hit our team's drives off the 10th tee. It was a typically Scottish autumn golf day with rain and howling wind.
I did take some comfort from watching Leisurecorp Golf CEO David Spencer hit a few drives. I am sure I heard TrackMan laugh!
Full credit to Sergio too -- he jumped from his helicopter to the 10th and smoked drives off the tee with hardly a warm-up.
I sat down with him afterwards to chat about everything -- including the Race to Dubai. He's excited by it, and why shouldn't he be with $10 million up for grabs.
The good thing is that we will see more of him in Europe in 2009 and he told me that quite a few American players are ready to sign up too. Once they get their passports, of course.
We also chatted about the Ryder Cup, his performance this year and plenty more. So look out for the interview on World Sport and on Living Golf in the coming months. What do you think about the Race to Dubai? Sound Off below
Ryder Cup reflection
September 25, 2008
First of all -- I have just finished hosting the latest Living Golf show at the Belfry Golf club in England. We held a debate that involved Darren Clarke, David Howell, manager Andrew "Chubby" Chandler and Golf International's Richard Simmons.
We discussed every hot topic in golf right now and got some great insight to the Ryder Cup outcome from Clarke and Howell -- two former European team members.
Their thoughts on the result are worth listening to.
And on the subject of the Ryder Cup: my prediction -- perhaps like a lot of others -- was way off the mark... it was far from a close European win.
It was a convincing and well planned victory by Paul Azinger and his team.
They put their foot on the Euros' throats on Friday and proceeded to build the pressure right from taking the honors on the first day.

Watch CNN's Patrick Snell review the U.S. Ryder Cup victory »
Their putting was super, and the crowd helped to smother the European team. I watched a lot of matches and felt that the momentum was always with America, despite Europe making a slight fight back on Saturday.
I think Nick Faldo fell well short of being a good captain. With Sergio Garcia obviously out of sorts for the first time in his Ryder Cup career -- and with Europe needing some fuel injection on Sunday -- the structure of the singles matches was wrong.
Ian Poulter, to his credit, stood up and played brilliantly to earn more points than any other player. He was running hot, so why not stick him out first to fire up the team and put pressure on America for the first and most crucial time?
From what I understand Faldo could have done with more assistants. Being the home team, America knew what the pin positions were going to be and used this advantage during the practice days to hit shots to those areas on the green.
A member from the European camp should have been watching them and advising the visiting players about what areas on the green they should be aiming for and practicing their putts.
Maybe this is why America putted so well -- they knew the areas around the pin positions so well and dropped putts from everywhere. Europe lacked practice in those areas.
Azinger was top notch. He must have played a huge role in inspiring the players behind closed doors to gel better than they have before.
The American's looked more committed and motivated than I have seen in many previous Ryder Cups -- it was terrific to see.
The Ryder Cup also gives players a chance to let us dig a little deeper and learn more about the character beneath -- Boo Weekley gets my applause for lifting the tense mood.
You don't get to see them so animated during the regular stroke play season.

And one of the best moments was watching Kenny Perry do so well in front of his home crowd.
The result makes for a terrific build-up to the Celtic Manor in Wales in 2010 and the selection for the European captain will be interesting too. America may very well stick with Azinger.
E-mail to a friend