By Greg Duke
For CNN

LONDON, England (CNN) -- All over Europe, club directors' knives are being sharpened, ready to inflict that fatal blow on the next underachieving manager. Here, at CNN.com, we have gazed into our crystal ball to highlight those we believe are next in line to lose their jobs.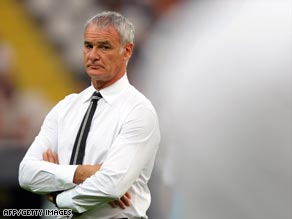 Claudio Ranieri is skating on thin ice, as his Juventus side have a very shaky start to the season.
Claudio Ranieri -- Juventus
The genial Italian looks up to his neck in it after another abysmal weekend performance by 'La Vecchia Signora'. Admittedly, Napoli did go top of Serie A after their 2-1 victory on Saturday, but Juve took the lead and the southern club have not been seen as serious title contenders since the heady days of Diego Maradona in the 1980s.
Compounding this for Ranieri, he was then given the dreaded "vote of confidence" by his board on Sunday, a sure sign that the end is nigh. A lowly 12th place in the table is simply not good enough and a defeat to city rivals Torino next weekend will surely seal his fate.
Chop rating: 10/10
Juande Ramos -- Tottenham
Ramos arrived last season and immediately made an impact by guiding Spurs to victory over Chelsea in the Carling Cup final. However, that Wembley high is but a dim and distant memory now as Tottenham prop up the Premier League with an appalling two points from eight matches.
Sound Off
Only one team has ever survived relegation in England after such a poor start and, despite the wealth of talent at their disposal, a long hard winter awaits the Spurs faithful. To make matters worse the popular Martin Jol, who was controversially replaced by Ramos last season, has led Hamburg to the top of the Bundesliga. Oh dear!
Chop rating: 9/10
Jurgen Klinsmann -- Bayern Munich
Klinsmann is rapidly turning from 'hero to zero' as far as the Bayern diehards are concerned. This season's form has been very un-Bayern, including that remarkable five-goal home hammering by Werder Bremen, and despite their Bundesliga domination, history shows that Bayern occasionally have a season where they fail to challenge for the title.
Those campaigns are invariably followed by a change in manager and with the Bavarian giants slumbering in a dreary 11th position, Klinsmann is certainly walking on thin ice. His saving grace might be that despite their dismal start, Bayern are actually only five points off top spot in what is proving to be a very open league.
Chop rating: 7/10
Luciano Spalletti -- Roma
Mmmm....Now this is a tricky one. Spalletti has led Roma through three seasons of unequivocal success, winning Italian Cups and presenting the only realistic threat to Inter Milan's recent domination in Italy. He was the 2006 Serie A Coach of the Year, has led the Romans to the Champions League quarterfinals and was high on the shortlist for the Chelsea job prior to Luiz Felipe Scolari's appointment.
However, reputations count for nothing in this game and, to put it bluntly, Roma have been rubbish this season, culminating in Sunday's humiliating 4-0 home defeat by Inter which saw them slump to 14th in the table and almost certainly out of title contention with the season not yet into November.
Whilst he still has the support of the 'Tifosi' Spalletti should be OK, but a couple more bad results, and an early exit from the Champions League, and he could well be on his way.
Chop rating: 4/10
E-mail to a friend