By Gary Morley
For CNN
LONDON, England (CNN) -- The turmoil at Newcastle and West Ham in the past month is a good indication of how far the balance of power has swung among those who actually run English Premier League clubs.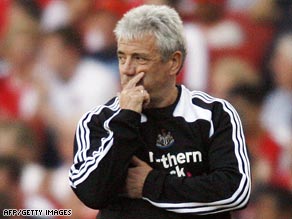 Kevin Keegan found that management had changed significantly after his three-year hiatus from football.
Once it was the managers who ruled the roost. Think Bill Shankly, Brian Clough, Don Revie -- tough autocrats who dominated English football in the 1970s and brought unprecedented success to their clubs.
They were followed by the likes of Bob Paisley, Bobby Robson and Alex Ferguson, who is now seemingly the last of the line as more and more clubs become the playthings of wealthy owners -- or are run in an increasingly corporate manner by the executives who hold the purse strings.
But even Ferguson, the highly-successful manager of Manchester United since 1986, has seen some of his power eroded following the club's takeover by the billionaire Glazer family.
When Kevin Keegan -- a man not averse to jumping ship when things aren't going exactly as he'd like -- took over as manager of Newcastle for the second time on January 16, the club insisted that he be answerable to a director of football. What's your opinion on who should run a club? Tell us in the Sound Off box
For someone such as Keegan, a legendary player and former manager of England who revived the north-east club's fortunes in his first spell in charge, that must have been quite some concession.
And the fact that he soon found himself working under the newly-recruited Dennis Wise -- an England international himself, but with only a mixed managerial record at lower league clubs -- that must have taken some getting used to.
The situation boiled over on the last day of this summer's transfer window, with Keegan refusing to take the team for training after being angered when the club signed players he did not want.
That resulted in days of strained talks with the Newcastle hierarchy before the 57-year-old decided there was no resolution and stood down -- to the horror of the Magpies' loyal and long-suffering fans, who have now turned on owner Mike Ashley, the man they at first thought had answered their prayers following his takeover from the unpopular Freddy Shepherd.
Further evidence as to how low the manager's stocks have fallen these days comes with the news that Tottenham assistant Gus Poyet -- Wise's No. 2 at Swindon and Leeds -- is now favored to replace Keegan. As impressive as the widely-popular former Uruguay international's coaching credentials are, it is obvious that he would not be running the show if he were to take the job.
At the other end of the country, Alan Curbishley cut his ties with West Ham after also becoming disillusioned with the club's transfer policy.
Curbishley, used to having complete control of footballing matters in 15 years at London rivals Charlton, was furious when Anton Ferdinand was allowed to join Sunderland -- and then threw his toys out of the pram when the Hammers sold George McCartney to the same club behind his back.
Upton Park officials suggested that Curbishley could not be trusted with full control over transfers after signing a long list of expensive misfits in his 20-month reign, most of whom having spent more time on the treatment table than on the pitch.
But as Curbishley retorted, what is the point of being the manager if you are forced to work with players you don't want?
The Hammers have now handed the job to former Chelsea favorite Gianfranco Zola, who reportedly impressed the club's technical director -- his fellow Italian Gianluca Nani -- and chief executive Scott Duxbury.
Maybe Zola, previously working alongside Pierluigi Casiraghi as coach of Italy's Under-21 team, can work effectively under the continental-style, layered management framework.
However, it is not a system that has proven successful in the English game.
Jose Mourinho, surely the epitome of the autocratic manager, fell out with Roman Abramovich after the Chelsea owner appointed Avram Grant as director of football and left Stamford Bridge only a few months later.
Even Luis Felipe Scolari, who replaced the sacked Grant as Blues manager this summer, allows chief executive Peter Kenyon and sporting director Frank Arnesen to deal with transfer matters. He may be wishing that he hadn't after seeing long-time target Robinho make a shock decision to join Manchester City last week.
Martin Jol complained of being undermined by sporting director Daniel Comolli after he was forced out of Tottenham last season. The Dutchman said he was not allowed to buy the players he wanted as the Londoners focused on buying young talent -- often at inflated prices -- who would more likely prove profitable to sell later in their careers.
Portsmouth also found out that appointing a director of football was not necessarily a beneficial move.
Boosted by the club's encouraging return to the Premier League in the 2003-04 season, then-owner Milan Mandaric decided the only way to take Pompey forward was to adopt a European-style hierarchy and bring in Velimir Zajec.
Manager Harry Redknapp, a maverick with a passion for gambling who made his name at West Ham, was incensed and quit Fratton Park in November 2004. The Croatian Zajec had five-month spell as temporary manager before Alain Perrin took over with a similar lack of success, and Mandaric was forced to bring Redknapp back in December 2005 as the club looked set for a relegation battle.
Redknapp kept Portsmouth up and, with the full backing of subsequent owner Alexandre Gaydamak, won the FA Cup last season and transformed the side into a top-eight outfit.
Redknapp could actually have found himself in the same situation as Keegan, but turned down the chance to join Newcastle after Sam Allardyce was sacked in January.
The 61-year-old was also quick to rule out a return to West Ham following Curbishley's exit, insisting that he was happy to stay at a club where he had full control.
"Curbs quit because he feels he has been undermined and shown a lack of trust by the owner. I take my hat off to him for sticking to his principles," Redknapp told The Sun.
"I love it at Portsmouth and I have one big advantage over a lot of Premier League bosses these days -- I've got an owner who lets the manager manage."
Zola, and whoever takes over at Newcastle, will unlikely be able to say the same thing.
E-mail to a friend

All About Kevin Keegan • Alan Curbishley • Newcastle United FC • West Ham United FC • European Football