LONDON, England (CNN) -- Robbie Keane started life as a Liverpool player on Tuesday with a stout defense of his controversial $38 million move from fellow Premier League side Tottenham Hotspur.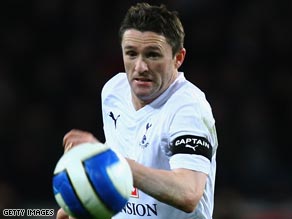 Keane became a firm crowd favorite in his six years at Tottenham.
Tottenham club chairman Daniel Levy declared the transfer had been an "enforced sale" and had reported Liverpool to the Football Association (FA) for their initial dealings, a complaint that has now been withdrawn.
But Republic of Ireland striker Keane believes he has done nothing wrong:
"I do not think I let Spurs down. I had six fantastic seasons there and gave them everything," he told the Press Association.
"But this is a new chapter in my life and one that I am looking forward to. I had six great years at Spurs and thank them for that."
Keane, who has supported Liverpool since he was a child, said he could not pass up the opportunity of joining the Anfield giants.
"I've been waiting for this day since I was a kid. Everyone knows I am a massive Liverpool fan, so to be sitting here today in a Liverpool tracksuit is a dream come true," he added.
Keane's six years at Spurs was his longest spell with a team following stints with Wolves, Coventry, Inter Milan and Leeds -- and last season he became the 15th player to hit 100 goals for the north London club.
He helped Tottenham win the League Cup with victory over Chelsea in February at Wembley where his celebratory jig further cemented his status as a popular player with the fans.
Keane will now fly to Spain with the Liverpool squad ahead of Wednesday's friendly against Villarreal where he is set to make his debut.
He has been assigned the famous number seven Liverpool shirt, previously worn by legendary players such as Kevin Keegan and Kenny Dalglish, and form a formidable striking partnership with Spain's Fernando Torres.
Keane's Tottenham strike colleague Dimitar Berbatov has also been at the center of transfer speculation, involving Manchester United, since the end of last season, while Liverpool manager Rafael Benitez is looking to further strengthen his squad with the signing of Gareth Barry from Aston Villa.
Villa are holding out for a higher fee for the England midfielder before any deal can be completed.
E-mail to a friend