BARCELONA, Spain -- Barcelona president Joan Laporta has survived a confidence vote even though less than half of all supporters who took part in the ballot backed him.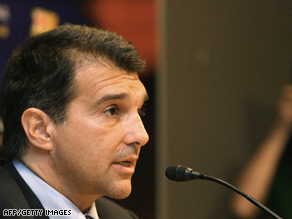 Laporta has been in charge at Barcelona since 2003 and was re-elected in 2006.
The vote was called by a disgruntled fan upset by the club's second successive season without a major trophy.
Only 37.75 percent of the votes were in favor of Laporta staying as president, while 60.6 were against, but to succeed a vote must have the support of more than two-thirds of the ballot, with a minimum turnout of 10 percent of the 118,528 club members entitled to take part.
Turnout reached 33.15 percent, meaning 37,294 eligible voters turned out at Camp Nou.
Of these 1.37 percent cast blank ballots while 0.27 percent of the votes cast were deemed invalid.
The 45-year-old Laporta and his team will be able to continue at the helm of the club until their current term expires on June 30, 2010.
Lawyer Oriol Giralt collected more than 9,000 votes from fellow club members to force Barcelona to hold the ballot after the side finished third in the Primera Liga, missing automatic qualification for the Champions League.
"Something needs to be changed very high up in our club," Giralt said. "There is something very wrong with this president. It is not just sporting reasons. The last two years have been terrible."
Giralt said that the board should examine the result closely because it sent a clear message." If I were president I would resign," he told a news conference.
Laporta said he would see out his term in office until 2010.
"The motion hasn't succeeded," he said. "We understand this is a punishment for the last two years and will work to correct things and to restore the institutional stability needed at this club."
Under Laporta, who has headed Barcelona since 2003 and was re-elected in 2006, the club won back-to-back league titles and the Champions League, but the fans have been disappointed during the past two seasons when Barca have been overshadowed by old rivals Real Madrid.
Laporta has replaced Frank Rijkaard as the club's manager with reserve team manager Josep Guardiola.
E-mail to a friend