By Mike Steere
For CNN

LONDON, England (CNN) -- French speed sailing trimaran,l'Hydroptere has broken yet another world record as its crew draw closer to two major milestones.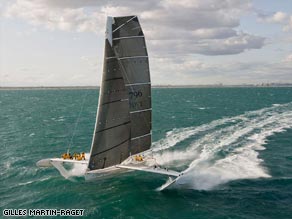 The flying yacht: French trimaran l'Hydroptere is closing in on two major speed sailing records.
L'Hydroptere is now the fastest yacht in history over 500 meters and one nautical mile, after its average speeds of 46.88 knots and 43.09 knots respectively were ratified by the British World Sailing Speed Record Council (WSSRC).
The records were set by Alain Thebault and his crew off Port Saint-Louis du Rhone near Marseille in the south of France.
The boat is now poised to pass the 100km per hour mark (54 knots) after reaching a peak of 53.69 knots in training last month.
The major record the l'Hydroptere is trying to claim is the world "absolute speed sailing record," which is currently held by American kite surfer Robert Douglas, who achieved 49.84 knots over 500m earlier this year.
Thebault and his crew now have until 22 December to establish new records this year. These attempts will be presided over and measured by a representative from the World Sailing Speed Record Council.
Thébault told CNN he had a long-held dream of skippering a boat that could "fly."
He said several subtle design changes had been made to the boat in 2008 and he's confident the crew can produce the record speed in the near future.
"I think the boat is ready now. I have always dreamed about a flying yacht. It was a big emotion for all of the crew and myself when we passed 50 knots," he said.
E-mail to a friend