By Mike Steere
For CNN

LONDON, England (CNN) -- The first venue for the 2012 London Olympic Games is complete and ready for competition more than three years out from the event.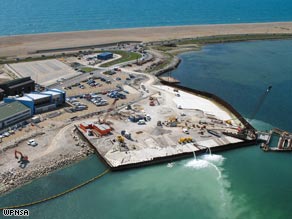 Weymouth and Portland: The 2012 Olympic venue under construction earlier this year.
The Weymouth and Portland National Sailing Academy (WPNSA) is the venue for the sailing events at the Games, and it has had extensive renovations including a new slipway to cater for the competition.
The project cost was approximately $23m --which was under the budget, and it was also finished ahead of the planned schedule.
As well as hosting the ten events at the Olympics, Weymouth and Portland will also be the venue for Paralympic sailing -- playing host to about 400 athletes.
The venue is located on Osprey Quay between the towns of Weymouth and Portland in the southern English county of Dorset.
The Olympic Delivery Authority (ODA) officially launched the venue on Friday with British gold medal winning sailor Paul Goodison, ODA Director Ralph Luck, Jonathan Edwards from the London 2012 Organizing Committee (LOCOG) and WPNSA Chairman Edward Leask in attendance.
The British sailing team which claimed six medals at the Beijing Olympics, including four golds, will train at the venue ahead of the next Games.
As well as the 150 meter slipway, other features of the venue include new race-boat parking, lifting and mooring facilities.
The Osprey Quay area is also under extensive development, with new cafes, accommodation and shops, and other businesses being erected.
E-mail to a friend