By Mike Steere
For CNN

LONDON, England (CNN) -- I have always dreamed of winning a medal at the Olympic Games -- and sailing seemed like a good sport to target.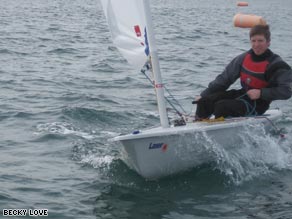 Tough but addictive: CNN writer Mike Steere found out how physically demanding Olympic-class sailing is.
By choosing sailing, I figured, I wouldn't have to take on people like Michael Phelps in the pool, Usain Bolt on the track or Chris Hoy at the velodrome. I wouldn't need brute strength like weightlifters, the amazing accuracy of target shooters, nor the endurance of a marathon runner.
I have also loved sailing for a long time, and watching the competitors at the Beijing Games I remember thinking to myself -- "this can't be that hard. Can it?"
To test my theory, I traveled to Weymouth and Portland's National Sailing Academy, the venue for the London 2012 Games sailing, to have a go in an Olympic-class Laser yacht.
Based in the south of England, boasting consistent wind and wonderful facilities, there could be no better place to launch an Olympic quest. I wanted to hit the speeds reached by Olympic champions Paul Goodison and Ben Ainslie, and I wanted to do it in one day.
After meeting my instructor, Emma Dawson, I was shown a few of the basics in a mock-up boat. I soon discovered that there were plenty of ropes, sorry "sheets," to worry about and tacking and gybing was going to be no simple task.
By the time we headed to the water I was quite nervous, but still feeling confident that my natural ability would see me through. What exactly this ability is, I'm not sure. Perhaps being a New Zealander would give me an advantage?
I certainly felt I was learning from the best. Beijing gold medalist Paul Goodison has taught at this Sail Laser school and he races in the same class of boat that I headed out in. Plenty of reason to be buoyant.
Little did I know that my childhood dream would soon leave me with a bloodied finger, aching arms and an extremely sore bum -- and after just three hours on the water!
Nonetheless, thanks to a patient and very helpful instructor, I was soon moving confidently, albeit with some difficulty making the turns. There are a number of issues you need to process in your head when you attempt an upwind tack -- which requires turning the boat from one side of the wind to the other -- or downwind gybe.
My repeated failure to get my head under the boom, problems straightening the rudder, difficulty coordinating my hands with the two ropes and forgetting to tack far enough initially stymied my progress.
I'd also forgotten to put my gloves on -- meaning the ropes soon slashed through the skin on my hands, leaving the boat covered with drips of blood. Not the ideal start to my Olympic career.
However, once I got moving, I got the buzz. In sailing they call it a "lift" -- when a gust of wind picks up your boat, stretches the sail and gets you moving quickly across the water.
I remember my first one vividly: I thought the boat was going to tip over and I'd be in the drink. Thankfully Emma had shown me how to deal with this situation.
When you get the lift you lean back, right out of the boat to counter the effect of the wind, holding on with your feet under the toe-strap. The ropes (sheets) are in your hand and tightening the mainsheet allows you to reach maximum speed and sail as "high," or as close to the direction of the wind as you possibly can.
This is a complete thrill. I was just inches off the water and fizzing along, with fantastical thoughts of flying past fellow Olympic competitors filling my head.
Though I could confidently catch the wind, turn, and reach a speed that I thought would be within range of even the best -- it was oddly while doing this that I realized I really didn't have a hope of making it.
Why? Because after a short time I was completely knackered. I challenge anyone who says a sailor is not an athlete to get into a single-handed boat and have a go. It is one of the most physically demanding sports I've tried.
It did not take long before my arms were aching, my bum was sore, my legs were stiff, my back hurt and my hands and wrists felt like they needed some ice.
So, I realized that if I wanted to have a chance of making it in sailing then it would take full-time dedication and a lot of skill -- and that I may have left it too late, anyway. My already high respect for Olympic sailors like Ben Ainslie skyrocketed. These guys and girls sail races almost without error and at constant top speed. I was making at least one error on almost every turn.
While my gold medal dream may have ended in the Laser-class boat at the 2012 Games venue -- I also realized you don't have to be an Olympic champion to fully enjoy sailing.
It's a sport that lets you experience many of the great things nature has to offer and what's best is that you can do it at your own pace, alone or with others, and your carbon footprint while doing it is virtually zero.
Will I be back out in a boat? For sure. Will I be at the 2012 Olympics? Maybe, but only to watch.
E-mail to a friend