LONDON, England (CNN) -- British sprinter Dwain Chambers has failed in his London High Court bid to compete at the Beijing Olympic Games.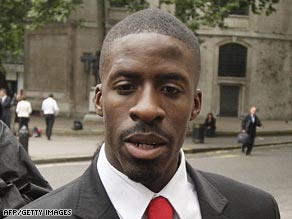 Dwain Chambers pictured ahead of his High Court appearance in London.
Chambers, 30, had appealed against a lifetime ban from competing in the Olympics imposed by the British Olympic Association following a two-year suspension for failing a drugs test.
Chambers, who served his doping ban between 2003 and 2005, was seeking a temporary injunction against the BOA, which bans all doping violators for life from Olympic competition.
Judge Colin Mackay announced his ruling Friday after listening to all the evidence in a hearing Thursday. Mackay ruled last week that there was not enough time to hear the full case until after next month's Games in China.
The judge noted during the hearing that the sprinter would know that being caught taking steroids resulted in a life ban from the Olympics.
The sprinter's lawyers argued that Chambers had expressed regret for his past behavior and deserved a place in Beijing, adding that he would strengthen Britain's 100-meter squad.
However, Mackay concluded Chambers had little chance of winning a medal in Beijing and that it would be unfair to deny an opportunity for a clean athlete to compete.
The judge added that the harmony of the British team would be upset if Chambers was included.
"It's a matter of great regret that Dwain Chambers, an athlete with such undoubted talent ... should by his own actions have put himself out of the running to shine on the Olympic stage," said Colin Moynihan, chairman of the British Olympic Association (BOA), after the verdict.
"Nobody found guilty of serious drug cheating offenses should have the honor of wearing a Team GB jersey," he added.
Chambers, who competed at the 2000 Olympics in Sydney, tested positive for the banned steroid THG in late 2003.
But he has staged a remarkable comeback since serving his two-year ban, reaching the medals podium at the World Indoor Championships in March and running 10.00 seconds in the 100 meters over the weekend at the British Olympic trials -- just three one-hundredths of a second off his personal best, which he achieved in 1999.
Chambers' case has divided the sporting world. His lifetime ban is backed by British Olympians including five-time rowing gold medalist Steve Redgrave, Kelly Holmes, who won gold at 1,500m and 800 meters in Athens in 2004, and London 2012 Chairman Sebastian Coe, a former runner who won gold for Britain at the 1980 Moscow Games and 1984 Los Angeles Games.
"I've heard for far too many years that the primary concern is for the athlete. Actually it's not," Coe told the Daily Telegraph this month.
"The primary concern is the well-being of the sport. If you don't have that, the athletes can go home. What you are doing with this bylaw is protecting the 99 per cent of athletes who choose to do this for the right reasons," Coe added.
But supporters of Chambers include U.S. athlete Edwin Moses, who won two Olympic gold medals in the 400-meter hurdles. Several British papers have quoted Moses saying the ban is unfair to Chambers.
A full hearing on the bylaw is expected in March. It was not clear whether Chambers planned to appeal Friday's ruling.
The BOA has vowed to "vigorously" defend the rule, which states, "Any person who has been found guilty of a doping offense (shall not) thereafter be eligible for consideration as a member of a Team GB," the name for the British Olympic team.
E-mail to a friend

All About Dwain Chambers • British Olympic Association • Drugs in Sports • Sports