(CNN) -- Throughout the history of the Olympics, athletes have used the Games as a stage to shine. But a special few have seized the moment -- sometimes several moments -- and enthralled us with their feats.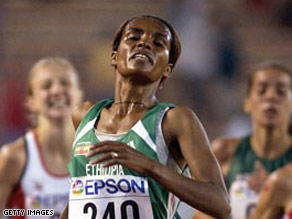 Derartu Tulu: The pride of Ethiopia.
Learn more about 20 special men and women around the world who have earned their place in history as some of the greatest athletes of all time.
Larysa Latynina, gymnast: Larysa Latynina holds more Olympic medals than any other competitor, male or female, in any sport and was responsible for establishing the Soviet Union as the dominant force in gymnastics. (Full story)
Jesse Owens, sprinter, long jumper: Although there have been more successful athletes in Olympic history, Jesse Owens' four gold medals at the Nazi-dominated 1936 Berlin Games earned him a unique place in the sporting hall of fame. (Full story)
Paul Elvstrom, sailor: Although his sport might not be the most high-profile Olympic discipline, Paul Elvstrom's four consecutive sailing gold medals -- all in the same individual event -- guarantee him a place in the roll-call of all-time great Olympians. (Full story)
Birgit Fischer, canoeist: Birgit Fischer is the only woman to win Olympic medals 20 years apart. She is regarded by many as the greatest Olympic canoeing champion of all time. (Full story)
Derartu Tulu, distance runner: The diminutive Derartu Tulu -- she stands only 1.56 meters (5 feet 2 inches) tall -- is one of, if not the greatest-ever female runners, the only woman ever to have won a long-distance gold at two separate Olympics. (Full story)
Iolanda Balas, high jumper: Bala' dominance of the high jump transcended Olympic competition. Although she won consecutive gold medals in Rome in 1960 and in Tokyo in 1964, the Romanian's achievements are perhaps better reflected in her 140 consecutive competitive victories in the event between 1957 and 1967. (Full story)
Dawn Fraser, swimmer: Renowned as much for her behavior out of the pool as her victories in it, Dawn Fraser may be the greatest, and certainly most colorful female swimmer in Olympic history. (Full story)
Kipchoge Keino, distance runner: That Africans today so dominate distance running is in part testament to the career of Kipchoge (Kip) Keino. (Full story)
Florence Griffith-Joyner, sprinter: Twenty years after she swept to three gold medals at the 1988 Olympics in Seoul, South Korea, Florence Griffith-Joyner remains the fastest woman ever. (Full story)
Carl Lewis, sprinter & long jumper: Named in 1999 as the male "athlete of the century" by the International Association of Athletics Federations, Carl Lewis embodied the Olympic motto -- "Citius, altius, fortius" (Faster, higher, stronger). (Full story)
Yoshinobu Miyake, weightlifter: Pound for pound, in his own sport, Miyake is considered one of the strongest men who ever lived -- and Japan's finest weightlifting exponent. (Full story)
Paavo Nurmi, distance runner: With nine gold medals and 22 world records, Paavo Nurmi is the greatest endurance runner of all-time. (Full story)
Marie-Jose Perec: Nicknamed "The Gazelle" on account of her graceful running style and speed around the track, France's Marie-Jose Perec is one of the greatest female sprinters of modern times, and also the most troubled. (Full story)
Nadia Comaneci, gymnast: For two weeks in 1976, the tiny 14-year-old girl from Romania was probably the most recognizable person on the planet. (Full story)
Jeannie Longo-Ciprelli, cyclist: The Frenchwoman would be remembered as the greatest female cyclist of her generation even if she had never been an Olympic champion. (Full story)
Steve Redgrave, rower: With five gold medals at five consecutive Games, the indomitable Steve Redgrave -- now Sir Steve Redgrave -- is Britain's greatest ever Olympian, and one of the all-time great Olympic athletes. (Full story)
Felix Savon, boxer: The greatest in an illustrious lineage of Cuban fighters, Savon dominated the amateur heavyweight division between winning his first world championship in 1986 and claiming his third Olympic gold medal in 2000. (Full story)
Mark Spitz, swimmer: The U.S. swimmer's haul of seven gold medals in Munich in 1972 -- four in individual events, three in team competitions -- remains the greatest tally ever achieved by an athlete at a single Olympiad. (Full story)
Fanny Blankers-Koen, sprinter, long jump, high jump: Blankers-Koen stands alone as the only woman to have matched Jessie Owens and Carl Lewis by winning four athletics gold medals at a single Olympics, in London in 1948. (Full story)
Aladar Gerevich, fencer: Just as Brazil is synonymous with football, so Hungary and the ancient sport of fencing are inextricably linked. Take the analogy one step further and Aladar Gerevich must be described as the sport's Pele -- the greatest Olympic swordsmen ever. (Full story)
E-mail to a friend

All About Summer Olympics • Sports