(CNN) -- Australia's cricketers will pay tribute to Jane McGrath at their one-day international against West Indies in St Vincent on Tuesday.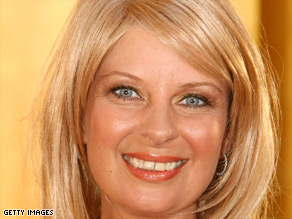 Jane McGrath died on Sunday at the age of 42.
The English-born wife of former Australia fast bowler Glenn McGrath, died on Sunday, aged 42, after a long battle with cancer.
The McGraths had two children, James, who is eight, and Holly six.
The Australian players will wear pink ribbons and batsmen will use pink grips on their bats.
The color pink represents the McGrath Foundation, an organization set up by the McGraths to raise money for the fight against breast cancer.
The McGraths were recognized for their charity work this year when they were appointed as Members of the Order of Australia.
Australia captain Ricky Ponting said: "Jane was a wonderful person who fought and maintained grace and dignity during her long-term illness."
Australian Prime Minister Kevin Rudd said: "Jane was an inspiration, whose legacy will continue to benefit so many others."
Former Australia captain Steve Waugh, best man at the McGrath's 1999 wedding, said: "Courage is often associated with feats on a sport field but the true meaning of it lies elsewhere and someone like Jane best exemplifies that."
E-mail to a friend