By Matt Carey
CNN
LOS ANGELES, California (CNN) -- You might want to take John Hodgman's new book, "More Information Than You Require," with a grain of salt. Or maybe the whole shaker.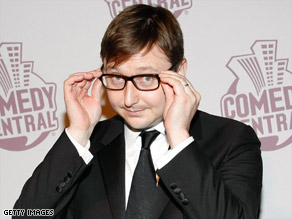 The knowledgeable John Hodgman has earned fame for his "Daily Show" appearances and as "PC" in Apple ads.
Like its predecessor, "The Areas of My Expertise," Hodgman's latest is an almanac-style compendium of facts ranging from the historical to the trivial. Except it's largely bogus, often completely made up and delightfully absurd.
Take this helpful folk remedy:
"If you have lost a finger, numb the pain with a poultice of goose grease and pine needles. Leave the poultice on the finger stump until it becomes sticky. Now find another finger. Stick it on there and seek no further treatment."

Watch Hodgman talk to CNN.com »
What is undeniably true is that Hodgman has parlayed his false erudition to unexpected renown. The first book by the former literary agent earned him a booking on "The Daily Show." The success of that appearance led to a recurring stint on the show, which led to his casting as "PC" in the celebrated Apple computer commercials, where Hodgman's bland everyman image is used to lampoon Microsoft.
CNN talked with Hodgman in the network's Washington, D.C., studios about his book and his improbable rise to the status of, in his words, "famous minor television personality." The following is an edited version of the interview.
CNN: Why did you decide to do a second book?
John Hodgman: My first book was called "The Areas of My Expertise," and like my new book, it was a collection of fascinating trivia and historical oddities and amazing true facts -- with the advantage that all the amazing true facts were made up by me.
I really wanted to write the second book, "More Information Than You Require," because [with] the first book of fake facts [being] only 236 pages long, people might think that I was a sane person. By adding an additional 300 pages to the total world knowledge count, I now look completely insane.
CNN: How do you go about researching your book?
Hodgman: I compile it by not doing any. My research generally involves me sitting down and thinking of all the half-truths and common misperceptions I've picked up along the way, and then I'll supplement that with a little bit of surfing the Internet, which is my favorite repository of dubious scholarship, and then I fuse that into the kind of world-complete knowledge that only my book can provide -- unresearched, largely fictional and entirely true.
CNN: Your book contains some interesting information about the electoral process, for instance.
Hodgman: It is that time of year that we pretend to vote for a president -- and I say "pretend" because, of course, we cast our ballots and create the popular vote and then all of those ballots are taken to a vault in upstate New York and hidden away and never looked at again. And then it goes to the Electoral College.
Now the Electoral College is a beautiful college in upstate New York. A lot of people have visited its campus. The town of Electoral is not much to speak of, I have to say.
CNN: And in your book we learn some strange but "true" things about America's presidents, including Woodrow Wilson.
Hodgman: Yes, Wilson was incapacitated after he had a stroke, so they had to put him in a special "stroke box," and from that time on, his wife really acted as the de facto president. That's why he was given the nickname "The President Who Is Secretly a Lady," and lots of people thought she was running interference and making all the decisions, and from time to time, they would say "Look, we need to see the president."
He was locked away in a closet, and she would bring him out, and even then they were suspicious -- they thought he might be a ventriloquist dummy shaped as Woodrow Wilson. But she had them tricked -- it was ventriloquist dummy made entirely out of Woodrow Wilson.
CNN: The Apple computer commercials in which you star have been a big hit.
Hodgman: Are you asking me for a free computer? Is that what this is all about? Is that -- this is what this is, isn't it?
CNN: No, no, not at all.
Hodgman: The reality is that I only get one bouquet of iPods every day, and I've given them all away today, so I have nothing for you. But if you buy several copies of my book and get me your address, I'll see what I can do for you. Which is nothing, I will do nothing for you, I'm sorry.
CNN: How did you come to star in the Apple spots?
Hodgman: I wrote my first book of fake trivia and thought that that was what I was going to do for my entire life. [Then] I went on "The Daily Show" to promote it and then was asked to be a contributor to the show -- and very quickly asked to go and audition and get this job to be the PC in these Apple computer ads. And quite suddenly, only two years ago, my life changed dramatically, and suddenly I had a television career which I never thought in a million years, never even thought to consider fantasizing about ...
It's a true embarrassment of riches, and I have to say that it makes me fearful, and part of me imagines that a sandbag is going to drop from the ceiling right now, for surely that is what I deserve.
CNN: Microsoft has been airing television ads in which a man impersonates you.
Hodgman: Well, I have to say that I'm sort of surprised and delighted by it, and that fellow, as I understand it, is also a Microsoft employee, an engineer, I understand, and somebody who is not an actor, and I presume that he is similarly having the same surreal experience that I first started enjoying when our ads came out -- of having all this attention, being on TV for the first time.
And if he is having as much fun with it as I've been able to have, then I'm delighted. I'm delighted to share the wealth of that bad suit and those glasses with some other person who's been plucked from obscurity and is experiencing the same weird ride that I've had.
E-mail to a friend

All About Microsoft Corporation • Apple Inc.