By Todd Leopold
CNN
(CNN) -- A comedy team starring a DuPont marketing manager and an insurance salesman? It will never work.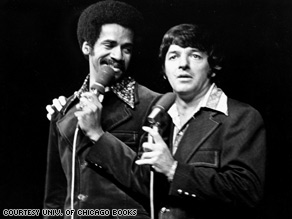 Tim Reid and Tom Dreesen perform together in the early 1970s.
And it didn't work -- not for long, anyway -- but not because of the jobs Tim Reid and Tom Dreesen held when they met at a Junior Chamber of Commerce gathering near Chicago. Reid, who eventually became famous as disc jockey Venus Flytrap in "WKRP in Cincinnati," was an African-American from Norfolk, Virginia; Dreesen, who would eventually become a noted standup comedian and Frank Sinatra's opening act, was a working-class white kid from the south Chicago suburbs.
Together, they were Tim & Tom, the first interracial comedy team -- "and the last," Dreesen likes to joke.
The pair's story is a tale of their times -- the late '60s and early '70s, when racial issues were at the forefront of the national dialogue -- and our times, when the country still struggles with many of the same questions. Their story is recalled in "Tim & Tom: An American Comedy in Black and White" (University of Chicago Press), which the pair wrote with Chicago sportswriter Ron Rapoport.

Slideshow: Reid and Dreesen talk about their act »
"I resisted doing the book for many years," admits Reid in a joint phone interview with Dreesen. "I said, 'Tom, nobody cared. They didn't care then, and they don't care now.' And Tom said, 'No, no, there's something here.'
"And then when we started talking about it and working on it, I realized we weave through history: There was the sexual revolution, the drug culture, the antiwar demonstrations, we lost Dr. King and Robert Kennedy. ... There was so much going on, and we weaved through it. So it turned out to be an interesting chronicle. We felt like Forrest Gump -- we were everywhere."
They were an unlikely combination from the beginning. Reid grew up in the segregated South, shuffled between members of his extended family. Dreesen's family -- he was one of eight children -- lived in a second-floor apartment above his uncle's bar in Harvey, Illinois, and later in a shack at a nearby plant. "We were raggedy-ass poor," he says in "Tim & Tom."
The two met in 1968 as they were beginning successful business careers, put together to promote an anti-drug program in the local schools. One child thought the two could make a good comedy team, and Reid and Dreesen thought, why not?
It wasn't easy. First they had to construct an act. Then they had to find places to play -- places that would book a black and white comedy team. In the late '60s and early '70s, before the comedy circuit that exists today, that meant some mediocre clubs and rough parts of town.
"The audiences were very honest with their like or dislike," Reid remembers. "A guy comes up to me and puts a cigarette out in my face, I know where he stands."
"That was the fourth time we were ever on stage," Dreesen picks up the story. "The guy damn near beat me to death, and then put his lit cigarette out on Tim's face, and I got in the car with Tim and we're all scarred and bruised, and Tim says, 'Welcome to show business.' "
Though they moved up to better bookings, breakthrough success was always just out of reach. At one point, the pair appeared to have picked up a manager, a club owner on Chicago's bustling Rush Street who wanted to take them on. One day Dreesen called to check on a deal and found out the man, who was just 32, had died of a sudden heart attack.
But there were some high points. Dreesen remembers a 1973 gig at Atlantic City's Club Harlem, a major stop on the chitlin circuit of black-owned nightclubs, an episode that leads off the book. Playing to large crowds, the two killed.
"Standup is all about timing ... [and] we were all about timing, because when you're working together ... you have know where the other person is going. When we were hot, our timing was impeccable," says Reid.
But despite having earned a few decent-paying gigs on the Playboy Club circuit they were burning out. Their marriages were troubled, they'd long since quit their jobs for a life on the road (usually sharing a room and paying their own expenses), and as Dreesen notes, the money wasn't great.
"I kept a ledger. We made $12,500 [one] whole year," he says.
"That we had to split, of course," Reid adds.
After the act broke up, both traveled to Los Angeles in search of the big time. After some odd turns -- Reid, having become involved with Della Reese, lived the high life in wealthy Bel Air while Dreesen lived out of his car -- they finally broke through. Dreesen made the first of many appearances on Johnny Carson's "Tonight" show and Reid, after moving out of Reese's house and starting over, got the job on "WKRP."
Dreesen spent 14 years with Frank Sinatra and still performs constantly. Reid appeared in the TV shows "Snoops" and the much-lamented "Frank's Place" and now is a filmmaker and sculptor working out of Petersburg, Virginia. They've remained friends through the years, honorary uncles to each other's kids.
They hope the book doesn't just entertain, but starts people talking. Race remains a thorny issue, as the presidential race has brought home more than once. Indeed, Reid believes that an interracial comedy team would struggle just as much today.
"There are many things now you can't say, but back then it was part of the social dialogue," says Reid. "If you're trying to express the irony of race, you got to have the freedom to have the characters explain it. I'm not saying that race is the brunt of the joke the way it is now -- race is the punch line. Back then, race was the vehicle. The punch line was the irony."
"Not everything we did was racial," Dreesen adds, "But the mere fact that one was black and one was white, it was, to [audiences], a discourse. ... When Tim and I did it in 1969 and '70, blacks were not talking to whites about what you think about this, whites were not talking to blacks about that, so Tim and I were that discourse. ... We were unusual and unique and people didn't always know how to take us. So the book is full of wonderful, funny stories, and also about the pain we went through in our career."
It's funny, Dreesen adds, the paths life takes.
"Show business is a wonderful thing," he says. "We keep reinventing ourselves, and this is something I hadn't thought about -- going on the road with Tim again."
E-mail to a friend

All About Stand-up Comedy • Books