By Drew Griffin and Kathleen Johnston
CNN Special Investigations Unit
Editor's note: We have previously reported that CNN reporter Drew Griffin, who co-wrote this piece, also matches a name on the FBI's terror watch list. Click here to read further or see link below.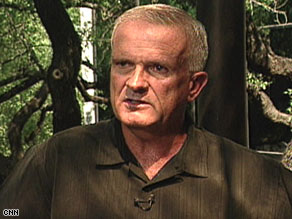 Author James Moore was told by an airline his name matched a name on the government's terror watch list.
(CNN) -- Four years ago, author James Moore released his latest book critical of President Bush.
"Bush's War for Re-election" was released in fall 2004 and raised questions about the president's service in the National Guard during the Vietnam War. The issue of Bush's service became a campaign issue during the 2004 presidential election.
Months later, on his first airline flight since the election, James Moore was told by the airline he was flying that his name matched a name on the government's terrorist watch list.
Airline passengers whose names match those on the watch list must provide additional information at airline ticket counters before being allowed to obtain a boarding pass.
"Traveling became very complicated," Moore said.
Since the name "James Moore" was added to the list in January 2005, Moore says, he must arrive at airports hours before his flight and is prevented from checking in electronically at home or at the airport. Depending on the level of scrutiny, he says he can actually spend several hours trying to obtain clearance before being allowed to fly.

Watch Moore talk about being on the watch list »
According to the ACLU, the name James Moore is one of a million names and aliases that have a match on the so-called terror watch list.
The FBI manages the Terrorist Screening Database, designed to prevent potential terrorists from boarding flights. An FBI spokesperson sent a statement to CNN saying that in several government audits, there's been "no suggestion" that anyone has been placed on the watch list for political reasons.
Don't Miss
"Nominations to the watch list are handled and reviewed by non-political, career intelligence and law enforcement officials who make their determinations solely on the basis of the available information and whether there is a reasonable suspicion to believe the individual is involved in terrorism."
The FBI would not provide any information on a suspected terrorist who uses the name James Moore.
The author James Moore says he has no proof politics placed him on the list, but he is very skeptical that there is any good reason the name James Moore is on anyone's terrorist watch list. iReport.com: Do you think your name is on a watch list?
"I'm stuck with everyone else on this list, wondering, am I someone's political enemy or do I live in a country where the government is just utterly and completely incompetent?" he says.
"And neither one of those are pleasant thoughts."
U.S. Rep. Sheila Jackson Lee of Texas has asked the Department of Homeland Security to investigate allegations individuals are being placed on the terrorist watch list for political reasons. The Department of Homeland Security is expected to respond to the allegations this month.
In the meantime, Moore says he is choosing to fly much less to avoid the hassle of traveling with an alleged terrorist name.
E-mail to a friend

All About Federal Bureau of Investigation • U.S. Department of Homeland Security • George W. Bush • Air Travel