(CNN) -- From Captain Kirk on "Star Trek" to Denny Crane on "Boston Legal," William Shatner has been a fixture on television for decades.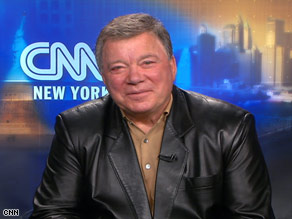 William Shatner has a new talk show and has written an autobiography.
Even as his latest series comes to an end, the actor is busier than ever.
He has written an autobiography, "Up Till Now," and he has a new talk show -- "Shatner's Raw Nerve" on the Biography channel --billed as an "edgy and off-beat celebrity interview series."
Shatner talked with CNN's Kyra Phillips about his career, past and present.
CNN: "Boston Legal," what a finale: a wedding between Denny and fellow lawyer and best friend Alan. Don't they know that Proposition 8 [passed]?
Shatner: It was all a financial guise, as you learned to your dismay. There was nothing sexual about our marriage. It was all designed to bequeath my fortune to him as [my character] got ready to die.
CNN: "Boston Legal" was a brilliant show: the writing, your famous wit. You must have had a blast doing the show.
Shatner: We laughed our way through five years of great joy, great entertainment, and we got some wonderful awards during the years and the beauty of it all was that when we came in this season, we knew we were going to do 13 shows and be out. So the writing reflected the fact that we knew we were ending and it wrapped the whole show up.
CNN: I cannot believe you have a porn queen [Jenna Jameson] on your talk show.
Shatner: We like to call her an adult film star. She turns out to be highly sensitive, vulnerable. ... This is a remarkable interview of a woman who is terribly vulnerable and expresses it. It was so good, we're doing a two-parter.
CNN: Who has been your favorite leading lady?
Shatner: They go down in the hoary mists of history. The effects of age -- they all meld into one and it looks like my wife.
CNN: You reveal a lot in your book. Who would you say your ultimate mentor has been through your life?
Shatner: I've thought about that over the years and it comes up that I don't have anybody who ever mentored me, ever was particularly interested in furthering my career. I had to do it stumbling around, trying to do it as most people do themselves.
E-mail to a friend

All About William Shatner