(CNN) -- Adventurer and TV show host Bear Grylls injured his shoulder in Antarctica during an expedition to raise money for an international charity, the Discovery Channel said Sunday.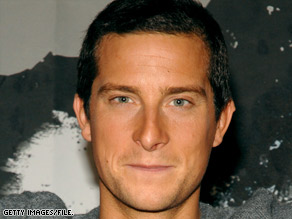 Bear Grylls, host of "Man vs. Wild," was injured in Antarctica during an expedition to raise money for charity.
Grylls was injured Friday night after falling during the expedition, which was not for the Discovery Channel, according to the network's statement.
The statement said that Grylls is returning to the UK to receive medical attention.
"Once he sees a doctor, we will have a better sense of the level of seriousness of his shoulder injury and the recovery time needed to get him back to his full physical activity," according to the statement.
Grylls, 34, is the host of Discovery's "Man vs. Wild" in which he demonstrates extreme measures -- including eating snakes and insects -- used to survive in harsh environmental conditions.
In his blog, Grylls said the aim of his expedition in Antarctica -- sponsored by Ethanol Venture -- is "to promote alternative energies and their potential."
Don't Miss
"We will be using lots of different forms of alternative power, including wind-powered kite-skiing, part bio-ethanol powered jetskis and inflatable boats, electric-powered paragliders, solar- and wind-powered base camps -- and good old foot work," Grylls wrote in a November 14 entry.
Grylls is a former member of the British Special Forces and has broken his back in several places during his service. In his blog, he said he and his wife Shara are expecting their third child in January.
E-mail to a friend

All About Antarctica