From KJ Matthews
CNN
LOS ANGELES, California (CNN) -- "The View's" Sherri Shepherd has something to say to fans of the show: Don't listen to the rumors.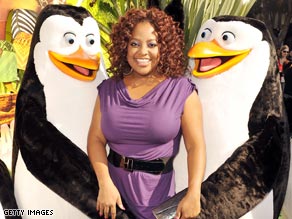 Sherri Shepherd poses with some "Madasgascar: Escape 2 Africa" friends at the Los Angeles premiere Sunday.
"Don't believe anything the blogs are saying," she told CNN at a weekend junket for "Madagascar: Escape 2 Africa" in which she does the voice for a character in the animated film.
She has a particular bone to pick with the ever-anonymous "unnamed source," who always seems to be the root of whatever rumors are appearing in gossip blogs and celebrity magazines about the popular ABC daytime show.
"I got a problem with Unnamed Source," Shepherd said. "Wherever you are, Unnamed Source, I hope they're paying you some good money to do all the lying you're doing. I hope you're able to pay that rent with the $50 they're giving you. ... I'm so mad at Unnamed Source."
So, wait: It's all sweetness and light on the "View" set? There aren't any fisticuffs between Elisabeth Hasselbeck and Joy Behar? Whoopi Goldberg isn't driving everybody crazy? Barbara Walters hasn't fired anybody?

Watch the impact Hasselbeck has had on politics »
"It's all good with us," Shepherd said. "I work with a bunch of wonderful, intelligent, powerful women. And I love that."
And she has no problems with Hasselbeck's support of the Republican vice presidential nominee, Alaska Gov. Sarah Palin, a situation that has caused some raised voices on "View" broadcasts.
In fact, Shepherd said, maybe Hasselbeck can help bring Palin on to the show.
"I'm hoping that as she's over there carrying the little signs for Palin, that she's whispering in her ear, come on 'The View,' " she said. "You know, Ted Nugent said ... [Palin] took a crowbar and she cut through all of the corruption in Alaska, and she took on the oilmen, and she took on all the men.
"Well, surely, girl, you can sit on the couch with the woman who's won an Oscar [Goldberg], the woman [who interviewed] Fidel Castro [Walters], a couple of comics and a woman who's a mother. Surely, you can sit there and talk to these women on 'The View.' "
"Madagascar: Escape 2 Africa" opens November 7.
E-mail to a friend

All About Barbara Walters • Whoopi Goldberg