From Alina Cho
CNN
NEW YORK (CNN) -- Chevy Chase as Gerald Ford. Dan Aykroyd as Jimmy Carter (and Richard Nixon and Bob Dole). Dana Carvey as George H.W. Bush. Will Ferrell as George W. Bush.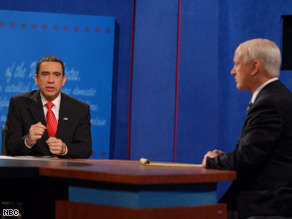 Fred Armisen plays Barack Obama and Darrell Hammond does John McCain on "Saturday Night Live."
"Saturday Night Live" has been parodying politicians for years, sometimes with such precision that their catchphrases (Carvey's "wouldn't be prudent," Ferrell's "misunderestimated") have become more closely associated with the politicians than the politicians' own words.
But with the ever-increasing crossover of politics and entertainment -- and the breakout attention received by Republican vice presidential candidate Sarah Palin -- it seems like the show's influence is greater than it's been in years.
The ratings have reflected that interest. The audience for the October 4 show, which followed the vice presidential debate, was up 42 percent from the comparable episode a year ago. "SNL" has even added a Thursday night "Weekend Update Special" to capitalize on the increased audience.
And Tina Fey, who left "SNL" two years ago to write and star in the Emmy-winning sitcom "30 Rock," has returned weekly to play Palin, increasing her own star power. (She says she's only going to do it until the election, regardless of the outcome.)
CNN's Alina Cho talked to head writer Seth Meyers about the show's influence, and cast members Fred Armisen and Darrell Hammond about their respective portrayals of Barack Obama and John McCain.

Watch the comics talk about their roles »
CNN: In terms of the show's influence ... to a certain degree, you do influence the way people feel about candidates. Do you feel that in the back of your mind?
The Fey Effect
Do "SNL" impersonations help or hurt candidates? "American Morning" goes backstage with cast.
Monday, 6 a.m. ET on CNN

Seth Meyers: I think when people actually get into a voting booth, there are a hundred things on their list before what they saw on "Saturday Night Live" that makes up their decision.
CNN: But there are people who are watching Sarah Palin, and they're thinking about Tina Fey.
Meyers: Right, but they were watching Sarah Palin and thinking about Tina Fey before we even did anything.
CNN: When John McCain announced [Palin as his running mate], was that like a gift from the humor gods? When did you realize ... that she's going to provide a wealth of material?
Meyers: Yeah, sure. It took an hour for everyone to realize, to find out who she was and whatnot. And obviously we had this gift of casting with Tina. And not only does Tina look like her, but she's one of the funniest people on Earth, and her take has just been incredible.
CNN: Let's talk a little bit how you guys prepare. First of all, Obama. Fred, when you do Obama, a lot has been said that he doesn't provide a lot of material. Is it a little hard for you to do?
Fred Armisen: In some ways it is. I try to leave it a little blank so the things we don't know yet are things I just try to leave alone for a while until the public gets to know him, until I get to know him. For Obama, what I do is I listen to his podcast. He has this audio podcast on iTunes. I just listen to that over and over again, like I would listen to music. ...
I'm trying to get the cadence and the voice and I think by the repetition of it ... it's like a practice. It's a rehearsal, over and over again on my down time. Which is not very much.
CNN: And Darrell, are you a little disappointed after so many years of Clinton, and then Gore -- now you've got McCain. Are you happy to do McCain? What did you do for McCain?
Darrell Hammond: I tried to find as many examples as I can of the person speaking. Everyone speaks a little differently depending on how many people are there or what the context is. So I try to find as much of that -- as much variety -- as I can get, and sort of blend it into one. But I'm very happy about playing him. He's a maverick, he's a very interesting guy, he always has something really interesting --
CNN: You're using his language.
Hammond: That's OK. I've been listening to him a lot.
E-mail to a friend

All About Saturday Night Live • U.S. Presidential Election
All About Barack Obama • Tina Fey • John McCain • Sarah Palin