(CNN) -- It used to be called "the love that dare not speak its name" -- particularly in Hollywood, where the revelation of homosexuality was believed to be a career-killer.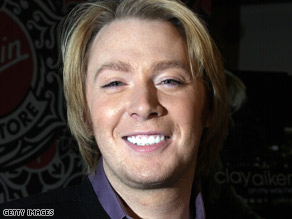 Clay Aiken recently announced he was gay on the cover of People magazine.
Now, out gays and lesbians are as casually visible as the cover of People magazine, which has recently run stories on Ellen DeGeneres' wedding to Portia de Rossi and Clay Aiken's decision to discuss his sexuality.
So, in a time when self-declared bisexual Tila Tequila can have a highly rated MTV show on looking for a partner of either sex, Lindsay Lohan talks about her relationship with DJ Samantha Ronson and "Star Trek's" George Takei can have a very public wedding with his longtime partner, is coming out still a big deal?
Publicist Howard Bragman, author of the forthcoming "Where's My Fifteen Minutes" (Portfolio), says that it is.
"Every person that comes out is another barrier coming down," Bragman, who is openly gay, told CNN.com. Acceptance by the mainstream public, he observes, is easier but by no means automatic, particularly when issues such as gay marriage are at stake. "I look at it as a long-term process. The revolution is over -- now it's an evolution."

Watch "American Morning's" Lola Ogunnaike look at changing attitudes »
Bragman was around when a performer revealing his or her homosexuality could still shock. He helped guide Dick Sargent when the "Bewitched" star came out of the closet in 1989, and remembers when it was difficult to get support for movies such as "Philadelphia," the 1993 film that won Tom Hanks an Oscar as a lawyer dying of AIDS.
Now, he observes, there are gay actors -- "How I Met My Mother's" Neil Patrick Harris may be the most notable -- playing straight roles, something that would have been almost unthinkable even a few years ago, since studios have often been nervous casting known gay performers in straight roles.
" 'We'll buy Hanks as a gay man but not the opposite,' " Bragman describes the industry thinking.
Indeed, there are now more gay characters in prime-time television than ever. Shows such as "Ugly Betty," "The Office" and "Grey's Anatomy" feature gay or bisexual characters, and this fall, five more will hit the airwaves, bringing the total to 16, according to a study by the Gay and Lesbian Alliance Against Defamation (GLAAD).
Don't Miss
"It's certainly positive that there is such a dramatic increase," GLAAD's president, Neil Giuliano, told CNN. "Number one, it reflects society, and the fact that we are more visible, and it also makes good television. Portrayals are almost more honest and real."
Peter Sprigg, vice president of policy for the conservative Family Research Council, doesn't agree.
"I'm convinced that for the most part, these characters are placed on television for propaganda purposes, in order to persuade people to be more accepting of homosexual conduct," he told CNN. "In that sense, the result for society is likely to be negative."
But Bryan Batt, the gay actor who plays the closeted Salvatore Romano on the Emmy-winning "Mad Men," says that viewers are more accepting of gay characters today, though concerns linger.
"Yes, I did think maybe this going to hurt me career-wise [to come out], but I come from Broadway and a lot of theater background. So, you know, no one really cares ... you don't have to be straight to act straight. You don't have to be gay to play gay," he told CNN.

Watch Batt talk about the challenges of a gay actor »
But, he adds, "There is, I think, a little bit of homophobia. I do believe that through education and seeing good, honest, positive gay role models, it will just educate. I think we are producing generations now of youth that do not judge people; they don't judge people on their race or their religion or their sexuality."
April Woodard, a correspondent for "Inside Edition," told CNN Headline News' "Showbiz Tonight" that rejection may have been on Aiken's mind. The singer, a born-again Christian, had long declined to talk about his sexuality, and with a strong Middle American fan base, may have been afraid of a backlash.
"There are definitely going to be some people in the South where he lives that aren't going to agree with it, and some of the Christians are not going to agree with his lifestyle and even having a child out of wedlock," she said.
For his part, Aiken -- who recently became the father to a newborn son -- told People that coming out "was the first decision I made as a father. I cannot raise a child to lie or hide things. ... I've never intended to lie to anybody at all. The fans, if they leave, they leave. But if they leave, I don't want them hating me."
Bragman believes Aiken will be more successful than ever.
"I'm sure, anecdotally, you'll have people not buying the next Aiken album because he's gay, but it will be statistically insignificant. If you're a fan, you're a fan," he said.
Aiken and other gay celebrities have generally received support from their colleagues and the public. "Heroes" star Kristen Bell, who is straight, told CNN that "[Aiken] shouldn't really have to acknowledge it."
"What surprises and saddens me is that it still is big news," she said.
But Bragman observes that the decision to come out remains intensely personal.
"It's not a career move -- it's a personal move," he said. "[It's saying,] 'I need to do this for me.' "
There are still many performers and industry notables, he says, who threaten to sue if their sexuality is revealed. Others live gay social lives but don't talk about their sexuality -- the so-called "glass closet." And, as Bragman notes, gay stars are generally from the second tier: "There are still no A-list movie stars out of the closet, there are still no superstar athletes," he said.
"It's great to see how far we've come," he said. "[And] we all long for the day when it's a nonstory. But we're not there yet."
E-mail to a friend

All About Gay & Lesbian Alliance Against Defamation • Sexuality • Gay and Lesbian Relationships